Memories of a Pilgrim on the Way of St. James - El Camino de Santiago
Belova, Evgenia (2015)
---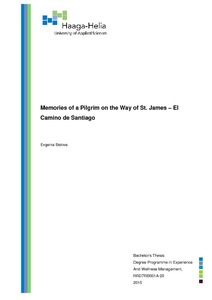 Haaga-Helia ammattikorkeakoulu
2015
All rights reserved
Julkaisun pysyvä osoite on
http://urn.fi/URN:NBN:fi:amk-2015120319290
Tiivistelmä
The thesis in hand turned out to be a result of an author's personal profound interest in the concept of pilgrimage, and is based on the experience on and memories about her travel along the Way of St. James – El Camino de Santiago. This is a product-based thesis. The product of the thesis is the author's diary she kept writing on the way and narratives she wrote sometime after the episodes of the trip took place.

The core concept of a current thesis is the concept of memory, which was considered mostly in the context of tourism and travelling. The main idea piercing through the whole work is the idea that memories are all what travellers have to get from their experiences. This assumption makes the entity of memory extremely valuable for tourism industry, since people tend to build their decisions about future destinations basing on their memories from the previous experiences or on the stories their friends and relatives share with them.

However, as a review of literature reviled, memory is a vulnerable mechanism, which can be easily distorted. Moreover, in many cases memories about the experience do not correspond to the actual experience one lives through, and the perception of experience in retrospection, among other aspects, depends on the peak moments of the experience and the way it finishes.

Also the author places an emphasis on the concept of narrative in her thesis. Basing on the literature review and her own vision, she believes that stories people share with each other reflect their identities and tell who they are. In addition to that, being an accumulation of some episodes of the experience, stories help to organize memories into a logical structure with exposition, development of the plot, culmination and dénouement. In general, a need to construct not only separate episodes happened, but also life in general, is natural for a human-being, since this way events obtain more meaning.

In current thesis, the author considers her pilgrimage experience process within three main stages, borrowed and adapted mostly from the service literature: pre-experience, core experience and post-experience stages, with the most emphasis on the two latter. The author also describes a concept of transformation, where a changed individual is the product of transformation.

By analysing her diary from the trip as well as narratives written as a memory about it, the author makes an attempt to find discrepancy between her actual experience on the way of St. James and memories she has after the journey. The author also looks for possible transformation happened to her during her pilgrimage experience and that was reflected in narratives.