Employee's satisfaction with integration process as a key to success of the company. Case: Radisson Blu hotel Latvija.
Cipruse, Dagnija (2011)
---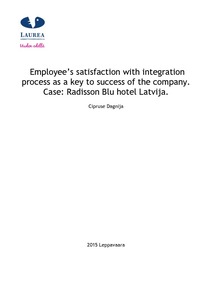 Laurea-ammattikorkeakoulu
2011
All rights reserved
Julkaisun pysyvä osoite on
http://urn.fi/URN:NBN:fi:amk-2015112517672
Tiivistelmä
The purpose of this thesis is to clarify how the employee's satisfaction with integration process can make impact on the success of the company. As employees are the most important resources of the company, good care have to be taken of them. Even more, depending on employee's knowledge, skills and work satisfaction, company's results can differ. To ensure the success and development of the company, the integration process has to be implemented carefully.

The theoretical part of the thesis explains employee's integration process which at the beginning is formed depending on the employer's and employee's balanced needs. Well known Maslow's hierarchy of needs can be applied to the integration process for highlighting the three main parts of the whole integration process. Recruitment, selection as well training can help to satisfy employees basic needs, while compensation, rewards and career development- higher-level needs. In the theoretical part of the thesis three main parts of integration process- hiring, training and rewarding are explained more detailed.

For understanding topic better, the case company Radisson Blu hotel Latvija is chosen as the research company for proving or denying the hypothesis of the research- the high level of employee's satisfaction with integration process leads Radisson Blu hotel Latvija to the success. The basic information of the company and wide range of facilities are described in a chapter. In addition as a chosen case company has various entertainment options, spa area- ESPA Riga is chosen as research object.

Accordingly to the aim and the problem of the thesis, the research method's type and tools are selected. The problem of the research- integration process of ESPA Riga is not completely good on all parts of the whole integration process, is carried out by using qualitative research methods- observation and questionnaire. Observation was done from the beginning of an employment to the present moment at ESPA Riga by taking into account all three parts of the integration process. In addition questionnaire was given to all receptionists of ESPA Riga with questions regarding in-tegration process. Questionnaire was ended closed with option to add comments.

The results of observation and questionnaire approved hypothesis of the thesis and provided company with possible problem solutions. Indeed employees are more motivated to provide company with best results and lead it to the success, if the integration of employees is done on a high level. Results showed that some of the integration parts of ESPA Riga, more specific- rewarding and training, are on not satisfaction level. This problem can be solved by implementing new reward system and training systems, which would not just improve company's overall business results, but also employee's workplace satisfaction.
Kokoelmat