The image and interest of Interrail in Finland
Kankaanpää, Anne (2015)
---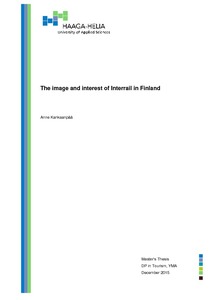 Haaga-Helia ammattikorkeakoulu
2015
All rights reserved
Julkaisun pysyvä osoite on
http://urn.fi/URN:NBN:fi:amk-201601111225
Tiivistelmä
Passenger transportation by train has long traditions in many European countries. Although rail travelling is nowadays comfortable, ecological and easy in many European countries, the popularity of Interrail travel in Europe among young Finnish travellers has decreased significantly since its peak decades in 1970s and 1980s.

The objective of this research is to gain practical relevant knowledge for the marketing of VR (the Finnish Railways). The research pursues to discover the current brand image of Interrail, level of awareness and interest among young consumers in Finland. Moreover the research aims to find out the main determinants for choosing or not choosing Interrail travel and which factors could increase the interest. A quantitative research approach was selected for this study, because the aim is to recognize a business problem and test whether the presumptions set are valid. A survey was the selected research strategy and a questionnaire the chosen data collection method.

A strong brand consists of brand identity, image and personality. Brand's identity is seen for instance in its visible elements: name and logo as well as in its history, age and place of origin. Brand image brings along the perceptions of consumers. The brand personality extends image associations to particular personality traits and characteristics of a brand. For Generation Y uniqueness of a brand still plays an important role although they hold a critical attitude towards commercial campaigns.

Interrail was mentioned in every 4th open-ended response, which refers that Interrail as a brand is rather known among people aged 18-39 years. Interrail related responses revealed many positive associations towards rail travelling. Rail travel was seen as easy, convenient, comfortable and fast mode of transportation. Admiration of beautiful and different landscapes during the trip as well as experience of something new, adventurous and interesting were seen as essential parts of Interail travel. Interail was also associated as a social form of travelling. Many perceptions were greatly influenced by reference groups' experiences. Many respondents expressed their dream or intention to travel by Interrail in the future.

Young people aged 18-25 years (N896) expressed clearly that they are very interested (77 %) or somewhat interested (20 %) to try Interrail within next two years. The three most emphasized determinants for choosing Interrail were 1) Europe and its different destinations are interesting, 2) Interrail travel as a comfortable mode of travelling and 3) personal leisure time available. Those 18-25 year old (N27) who were not interested emphasized three main determinants for not choosing Interrail as 1) not having enough leisure time available, 2) flying is easier in Europe than rail travel 3) various other reasons such as time and cost constraints as well as life stage or other personal reasons.