Skadeutredning av betonggolv : bästa praxis i Finland och Sverige
Sunabacka, Karolina; Glader, Annika (2014)
---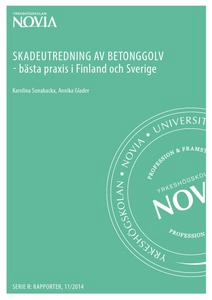 Sunabacka, Karolina
Glader, Annika
Yrkeshögskolan Novia
2014
Julkaisun pysyvä osoite on
http://urn.fi/URN:ISBN:978-952-5839-99-9
Lähdeviite:
Sunabacka K., Glader A., (2014). Skadeutredning av betonggolv : bästa praxis i Finland och Sverige. , In: Novia Publikation och produktion, serie R: Rapporter 11/2014, Yrkeshögskolan Novia.
URN:ISBN:978-952-5839-99-9
Tiivistelmä
Flera branschorganisationer har gett ut anvisningar om bästa praxis vid skadeutredning av byggnader. En ska¬deutredning börjar med en inventering av byggnaden och det är beställaren som ansvarar för att den genom¬förs av en kompetent utredare. Både i Finland och i Sverige finns det dokumenterade metoder som man kan följa.
För att kunna genomföra lämpliga och kostnadseffektiva åtgärder vid inomhusmiljöproblem bör byggnaden utredas som en helhet. Efter den inledande utredningen gör man en första bedömning av inomhusklimatets påverkan på invånarnas hälsa och om man bör gå vidare med fördjupade konstruktions- och fukttekniska utredningar. Att mäta fukt i betong kräver kunskap hos den som utför mätningarna och tolkar resultaten. Både i Finland och i Sverige har byggbranschen gett ut anvisningar som beskriver hur man mäter den relativa fuktigheten i betongkonstruktioner. Vid renoveringen avlägsnas allt skadat material. Man bör även se till att de åtgärder man vidtar åtgärdar orsaken till fuktskadan.
Idag finns det både kunskap och hjälpmedel för att undvika fuktskador men dessa utnyttjas inte optimalt. I Boverkets byggregler rekommenderar man att det inför varje byggprojekt anlitas en fuktsakkunnig som utför en fuktsäkerhetsprojektering. Genom att följa lagar, föreskrifter och bästa praxis kan man förebygga fuktpro¬blem i byggnader.
Several trade associations have published best practice guidelines for the investigation of moisture damaged buildings. A building investigation begins with an inspection of the building and the contractor is responsible for ensuring that it is carried out by a competent investigator. Both in Finland and Sweden there are documented methods that can be followed.
In order to implement appropriate and effective measures when solving problems with the indoor environment, the building should be investigated as a whole. After the initial investigation, a first assessment of the indoor climate's impact on residents' health is carried out and the need for further investigations of structures and moisture is evaluated. Measuring moisture in concrete requires knowledge of the person performing the measurements and interpreting the results. Both in Finland and in Sweden, the construction industry has issued instructions that describe how to measure the relative humidity in concrete structures. All damaged material is removed during renovations. One also needs to ensure that the measures taken address the cause of moisture damage.
Today, there is both knowledge and the means to prevent moisture damage but these are not utilized optimally. In the building regulations issued by Boverket, it is recommended to engage a moisture expert to make a moisture control plan before every construction project. By following the laws, regulations and best practices it is possible to prevent moisture problems in buildings.
Kokoelmat