Byggnadsrelaterad ohälsa : kompetensutveckling inom hälsovården
Glader, Annika; Claeson, Anna-Sara; Stenberg, Berndt; Glas, Bo; Liljelind, Ingrid; Eriksson, Kåre; Nyback, Maj-Helen; Nordin, Steven (2014)
---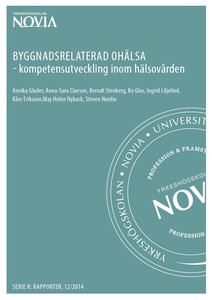 Glader, Annika
Claeson, Anna-Sara
Stenberg, Berndt
Glas, Bo
Liljelind, Ingrid
Eriksson, Kåre
Nyback, Maj-Helen
Nordin, Steven
Yrkeshögskolan Novia
2014
Julkaisun pysyvä osoite on
http://urn.fi/URN:ISBN:978-952-7048-02-3
Lähdeviite:
Glader A., Claeson A., Stenberg B., Glas B., Liljelind I., Eriksson K., Nyback M., Nordin S., (2014). Byggnadsrelaterad ohälsa : kompetensutveckling inom hälsovården. , In: Novia Publikation och produktion, serie R: Rapporter 12/2014, Yrkeshögskolan Novia.
URN:ISBN:978-952-7048-02-3
Tiivistelmä
Det finns ett stort behov av utbildning om inomhusmiljö och byggnadsrelaterad ohälsa, både inom ramen för grundläggande yrkesutbildningar och som fortbildningskurser för yrkesverksamma. Hälsoproblem som beror på dålig inomhusluft på arbetsplatsen utreds av företagshälsovården. Dock har de som jobbar inom företags¬hälsovård idag inte alltid tillräcklig kunskap om inomhusmiljö och byggnadsrelaterad ohälsa och saknar ofta beredskap att som sakkunniga delta i utredningar på arbetsplatser. För att förbättra vården bör personalen utbildas om bl.a. riskfaktorer för dålig inomhusluft, vanliga hälsobesvär och inverkan på arbetsförmåga och produktivitet, de psykosociala faktorernas betydelse samt ansvarsfrågor och hälsoekonomiska konsekvenser. Öppna digitala lärresurser (OER) och kurser på nätet (MOOCs) kan med fördel användas vid fortbildning av vårdpersonal. Nätbaserad utbildning underlättar för vårdpersonalen att själv kunna välja tidpunkt och målsätt¬ning. Därtill utgör OER även ett hjälpmedel för att utveckla kunskapsöverföringen mellan Sverige och Fin¬land.
There is a growing demand for education on indoor environment and building-related illness, both in the
context of basic vocational education and training courses for professionals. Health problems, caused by poor indoor air quality in the workplace, are investigated by the occupational health service. However, those working with occupational health today, do not always have sufficient knowledge about the indoor environment and building-related illness and often lack the capacity to participate as experts in investigations of the indoor environment in a workplace. To improve health care, staff should be trained on e.g. risk factors for poor indoor air quality, common health problems and impact on working capacity and productivity, the impact of psychosocial factors as well as liability issues and health economic implications. Open Educational Resources (OER)and Massive Open Online Courses (MOOCs) can advantageously be used in the training of health professionals. Online education makes it easier for them to choose when to participate and the objectives of the education. Furthermore, OER also constitutes a means to develop knowledge transfer between Sweden and Finland.
Kokoelmat