Kundtillfredsställelse och dess utveckling i Fazer bageributik
Virranvuo, Jenni (2016)
---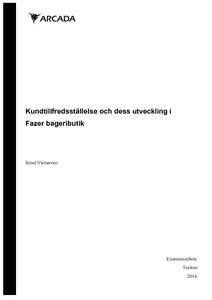 Yrkeshögskolan Arcada
2016
All rights reserved
Julkaisun pysyvä osoite on
http://urn.fi/URN:NBN:fi:amk-201604275220
Tiivistelmä
Syftet med detta examensarbete är att kartlägga kundtillfredsställelses nivå på Fazer Bageributik Ulrikasborg, och på basen av resultaten kunna ge utvecklingsförslag för företaget.
I den teoretiska referensramen diskuteras de faktorer som påverkar i kundnöjdheten. De faktorerna är kundservice, den totala kvaliteten samt faktorer relaterade till både produkter och prissättning.
Undersökningsmetoden som användes i examensarbetet är den kvantitativa metoden. Kundnöjdhetens aktuella läge på bageributiken undersöktes i form av en strukturerad enkätundersökning där alla respondenter kunde anonymt delta i studien för utveckling av kundtillfredsställelsen. Studien genomfördes på bageributiken från början av september till början av oktober 2015, under en fyra veckors tid. Enkäter samlades in totalt 60 stycken varav 59 analyserades.
Resultaten visade att kundnöjdhetens nivå är i allmänhet bra. Respondenterna var särskilt nöjda med den upplevda kundservicen i bageributiken samt med utseende och smaker av de olika produkterna. Även de tidiga öppettiderna fick mycket beröm. De faktorer som mest önskades utveckling till var de olika produkters utbud samt tillgänglighet på eftermiddagen, samt butikens allmänna utrymmen, främst dess trånghet. Även längre öppettider till veckoslutseftermiddagar önskades.
The purpose of this study is to determine the customer satisfaction of Fazer Bakery Shop Ullanlinna, and to introduce development ideas on the basis of research results obtained.
The theoretical section discusses the factors affecting customer satisfaction, which are customer service and its overall quality, and factors related to product and pricing.
The research method used in the thesis was a quantitative method. The current state of customer satisfaction of the bakery shop was researched with the help of a structured questionnaire. All of the respondents could anonymously participate in the research of development of customer satisfaction. The study was conducted in the bakery shop during the four weeks from early September to early October 2015. 60 completed questionnaires were collected of which 59 were analyzed.
The results showed that the customer satisfaction status is generally good. The respondents were particularly pleased with the perceived customer service at the bakery shop, as well as with the looks and tastes of different products. Also the early opening hours received a lot of praise. The issues that needed development were commonly associated with the product range and their availability on the afternoon, as well as shop´s public spaces, mainly to its narrowness. Weekend opening hours were expected to get extension for the later afternoon.
Kokoelmat