Lageroptimering och flödesförbättring : En studie kring ett råmateriallager i ett livsmedelsföretag
Vasara-Hammare, Viljam (2016)
---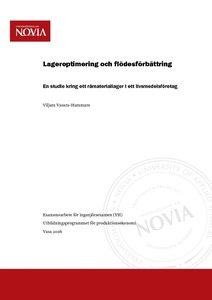 Yrkeshögskolan Novia
2016
All rights reserved
Julkaisun pysyvä osoite on
http://urn.fi/URN:NBN:fi:amk-201604295502
Tiivistelmä
Detta examensarbete gjordes åt Fresh Servant, ett livsmedelsföretag som specialiserat sig på förädling av frukter och grönsaker, med Hetki lunchsallader som flaggskepp. Företaget har vuxit kraftigt den senaste tiden och man tror att tillväxten fortsätter också i framtiden. Därför fanns behov av att analysera processerna för att se om man arbetar på rätt sätt och hur en tillväxt påverkar processerna.
Arbetet koncentreras till produktionens råmateriallager vid enheten i Edsevö. Uppgiften kan delas in i två delar, lageroptimering och flödesförbättring. Lageroptimeringsuppgiften var att bryta ned en given lageråtgångsdata till dagsåtgång och ta fram ett verktyg som visar hur detta ändrar med vald tillväxtprocent. I verktyget skulle det också finnas med nyckeltal för lagret som visar förhållandet mellan lagerstorlek och åtgång. Flödesförbättringsuppgiften var inte lika specificerad utan gällde förbättring av flödet i råmateriallagret överlag.
Resultatet av lageroptimeringsuppgiften blev ett verktyg i Excel som efter inmatning av månads- eller veckoåtgången ger dagsåtgången i pallar och lådor för tre år framåt, med vald tillväxtprocent. Verktyget visar också visuellt om de olika artiklarna har en optimal lagerplatsstorlek med hjälp av täcktid och antalet påfyllningar per dag. Flödesförbättringsuppgiften resulterade i nya layoutförslag samt förslag på nya arbetsmetoder.
This Bachelor's thesis was made together with Fresh Servant, a food company specialized on fruits and vegetables, with Hetki lunch salads as the flagship product. The company has grown a lot the past years and the growth is also expected to continue. Therefore there was a need to analyze the processes to see if they are still working in the right way and also to clarify how a continued growth will affect the processes.
The thesis focuses on the productions raw material warehouse at the unit in Edsevö. The task can be divided into warehouse optimizing and flow improvement. The optimizing task was to fragmentize a given warehouse expenditure into a daily expenditure and also build a tool that shows how that changes with different big growths. The same tool should also include ratios based on the warehouse size and the expenditure. The flow improvement task was not specified for a certain problem or part of the flow but involved all parts in the raw material flow.
The result of the optimizing task was a tool in Excel that after putting in the month or week expenditure gives the daily expenditure for three years forward with a chosen growth percent. The tool shows visually if the warehoused articles have an optimal size, based on the days of supply. The flow improvement task resulted in new layout and working method suggestions.
Kokoelmat