Den kvinnliga pubertetens samband med ökad risk för ACL-ruptur - förebyggande träning baserad på skapad riskprofil för artistiska gymnaster : Ett beställningsarbete av Mariehamns Gymnastikförening
Johansson, Frida (2016)
---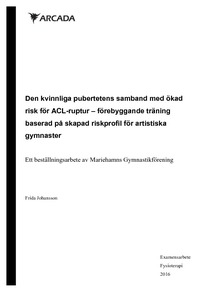 Yrkeshögskolan Arcada
2016
All rights reserved
Julkaisun pysyvä osoite on
http://urn.fi/URN:NBN:fi:amk-201605178191
Tiivistelmä
Skadefrekvensen för ACL-ruptur i knä hos kvinnor i och efter pubertetsåldern har räk- nats vara 4-6 dubblad jämfört med motsvarande manlig atlet, var skillnad inte påvisats innan puberteten (Myer et. al., 2009b). Artistiska gymnaster visar högst skadefrekvens för ACL-ruptur jämfört med idrotter såsom fotboll, volleyboll och basket (Michaelidis och Koumantakis, 2014).
Mariehamns Gymnastikförening på Åland bad om hjälp med utveckla sin verksamhet genom att skapa en tryggare tränings- och tävlingsatmosfär för föreningens ledare och gymnaster. Utvecklingen planeras ske genom fördjupad kunskap om sambandet mellan pubertet och ökad risk för ACL-ruptur hos kvinnliga artistiska gymnaster samt genom skapandet och användandet av förebyggande träningsövningar specifikt utformat för dessa gymnaster och deras riskprofil. Önskemål från föreningens sida var att tränings- övningarna skulle kunna implementeras i den vanliga träningen och vara oberoende av varandra.
Arbetsprocessen följde Carlströms och Hagströms modell för utvecklingsarbete. Genom en systematisk litteratursökning i forskningsdatabaser samt genom internetsidor och litteratur kunde information om pubertetens samband med ACL-ruptur tas fram och bearbetas. Ett flertal riskfaktorer konstaterades öka risken för ACL-ruptur hos kvinnliga atleter i och efter pubertetsåldern varav bristande neuromuskulär kontroll tros vara den största och mest modifierbara faktorn. Använda forskningar visade att neuromuskulär träning med komponenter såsom muskelstyrka, plyometri, biomekanisk analys av land- ningar och biofeedback bör inkluderas i den förebyggande träningen.
En övningsbas med förebyggande träningsövningar kunde slutligen utformas baserat på teoretisk bearbetad information och skapad riskprofil för de artistiska gymnasterna.
The injury rate for ACL-rupture in female adolescents during and after puberty, has been calculated to reach a level 4 to 6 times higher than the corresponding male athlete. This difference, however, cannot be observed prior to puberty (Myer et. al., 2009b). Several studies indicate that artistic gymnasts suffer from the highest ACL injury rate in compari- son with sports such as football, basketball and volleyball (Michaelidis and Koumantakis, 2014).
Mariehamns Gymnastikförening, a gymnastics club located in the Åland Islands, request- ed assistance in improving its activities through creating a safer, less injury prone training and competing atmosphere for its gymnasts and coaches. The development is intended to be achieved through providing the club with a more thorough understanding of the asso- ciation between puberty and increased risk of ACL rupture in female artistic gymnasts, as well as through the creation and use of preventive exercise combinations specifically de- signed for young female gymnasts and their risk profile. The wish of the MGF was that the exercises could be included in their daily training as well as done independently. The working process followed Carlström's and Hagström's model for work development. Through a systematic literature search covering research databases, websites and books, information about the association between puberty and ACL rupture could be compiled and studied. Several risk factors were found to increase the risk of ACL rupture in female athletes during and after the age of puberty. The lack of neuromuscular control is be- lieved to be the largest and most modifiable factor. Research showed that neuromuscular training with components such as muscle strength, plyometrics, biomechanical analysis of landings and biofeedback should be included in the preventive training. Finally, a base of preventive exercises could be designed based on the studied theoretical information and the created risk profile for the artistic gymnasts.
Kokoelmat