Major reasons for Nepalese Finance Companies' Mergers Failure : – Case – Synergy Finance Ltd
Panthi, Saroj (2016)
---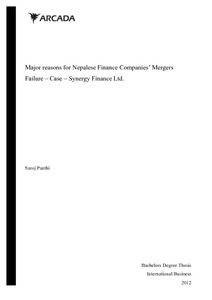 Yrkeshögskolan Arcada
2016
All rights reserved
Julkaisun pysyvä osoite on
http://urn.fi/URN:NBN:fi:amk-201605249507
Tiivistelmä
The thesis is the result of the curiosity of the author about the unusual growth of mergers
and acquisitions in Nepal. Author realized the trend is not going well with the 'C' grade
finance companies. So, he focused on the particular SFL merger's failure to find out the
major factors responsible for the downfall. He has studied about the 3 companies under
the renowned frameworks set by (Harspeslagh and Jamison 1991) and (Jarillo 2003).
Author has relied mainly upon literature reviews and other the secondary sources like
scholarly articles, journals, newspapers and other publicly available sources on web. This
study reflects the deep study of the official statistics, data and reports and further analysis
of them. For the reliability, author collected the various interviews of the ex-chairperson
and ex-CEO of SFL. In first part, author analyzes the reports of financial regulatory body
Central Bank of Nepal to understand the situation of the mergers. Along with that, he
studies the Mergers Bylaw-2011 provisions. Futhermore, he analyzes the almost all
reliable financial and non financial indicators of SFL before and after mergers in order to
focus on the particular reason of its failure. As the conclusions, author finds that mergers
is taken as handy strategy to increase the capital adequacy rather than strategic
improvement of financial health of company. And furthermore, SFL failed in the mergers
due to the unhealthy mergers and failed strategy of reducing non performing loans of the
company.