Nutrition - lätt som en plätt? : - en enkätstudie om vikten av god nutrition inom vården
Sandqvist, Linda; Hermansson, Heidi (2016)
---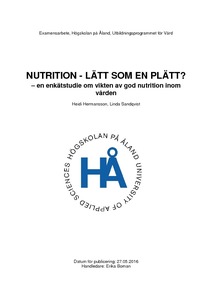 Sandqvist, Linda
Hermansson, Heidi
Högskolan på Åland
2016
All rights reserved
Julkaisun pysyvä osoite on
http://urn.fi/URN:NBN:fi:amk-2016052710336
Tiivistelmä
Bakgrund: Gott närings- och energiintag är grundläggande för god hälsa. Det kan dock vara extra viktigt med ett optimalt näringsintag för äldre och sjuka personer, då de drabbas lättare av undernäring om näringstillförseln är bristfällig. I hälso- och sjukvårdslagen beskrivs omvårdnadspersonalens skyldigheter för att främja en god hälsa samt upprätthålla och utveckla sin yrkeskompetens. Med hjälp av ett gott samarbete mellan professionerna och med stöd av omvårdnadsprocessen kan en god nutritionsstatus upprätthållas.
Syfte: Syftet med arbetet var att beskriva omvårdnadspersonalens uppfattning om hur omvårdnadsprocessen tillämpas samt ansvarsfrågor och kunskapsbehov i relation till nutritionsfrågor.
Design och metod: Studien är en kvantitativ deskriptiv tvärsnittsstudie och resultatet bygger på en enkätundersökning baserad på sjukskötare och närvårdares uppfattning om nutritionsfrågor inom Ålands hälso- och sjukvård (n= 61).
Resultat: Resultatet visar brister i riktlinjer, ansvar samt kunskap angående nutritionsfrågor.
Slutsats: Forskning visar att det behövs tydliga riktlinjer och kunskap samt att nutrition prioriteras för att säkerställa en god patientvård. För att kunna implementera detta i den dagliga verksamheten krävs att sjukhusledningen tar det övergripande ansvaret för att skapa optimal miljö för sjukhuspersonalen samt att säkerställa att personalen har den kunskap som krävs för att kunna ge patienten den adekvata nutritionsvård de är berättigade till.
Background: Good nutrient and energy intake is essential for good health. However, it may be extra important with optimal nutrition for the elderly and sick people, since they suffer more easily from malnutrition. The Health Care Act describes nursing staff's obligations to promote good health and maintain and develop their professional skills. With the help of a good cooperation between the professions and with the support of the nursing process good nutritional status can be maintained.
Aim: The aim of this work was to describe the nursing staff's perception of how the nursing process is applied, as well as questions of responsibility and knowledge needed in relation to nutrition issues.
Design and Methods: The study is a quantitative descriptive cross-sectional study and the results are based on a survey based on nurses´ and assistant nurses´ understanding of nutrition issues in the Åland health care (n = 61).
Results: The results show deficiencies in guidelines, responsibility and knowledge of nutrition issues.
Conclusion: Research shows that the need for clear guidelines, knowledge, and prioritization of nutrition to ensure good patient care. To implement this in the daily activities it is required that the hospital management takes the overall responsibility for creating the optimal environment for hospital staff, and ensures that staff have the knowledge required in order to give the patient the appropriate nutritional care they are entitled to.
Kokoelmat