Utveckling av en rapportgenerator
Tinnilä, Henrik (2016)
---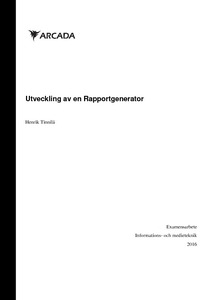 Yrkeshögskolan Arcada
2016
All rights reserved
Julkaisun pysyvä osoite on
http://urn.fi/URN:NBN:fi:amk-2016060211679
Tiivistelmä
Det här examensarbetets syfte är att beskriva utvecklingsprocessen för en rapportgenera-tor för konditionsgranskningar av byggnader. Konditionsgranskningar behövs när man skall sälja eller köpa byggnader för att känna till eventuella risker. Att skriva rapporter om granskningarna är långsamt och därför vill man ha ett program som försnabbar pro-cessen. Detta program kommer att användas av Arkkitehtuuritoimisto Visio när de gör konditionsgranskningar på fältet. Syftet med programmet är att främst spara tid i skriv-processen.
Rapportgeneratorn består av två delar. Första delen är en editor var man skapar rubriker och texter, samt frågor och svarsalternativ som sparas i en databas. Sedan skapas olika regler för vad som händer när man väljer ett svarsalternativ. I andra delen av program-met svarar man på frågorna. Enligt regler kommer det nya frågor på skärmen samt rubri-ker och texter sätts till en rapport. När man svarat färdigt har man en preliminär rapport man sedan kan fortsätta på.
This thesis describes how a report generator was developed for Arkkitehtuuritoimisto Vi-sio. Condition inspections are important to evaluate a buildings state when trying to buy or sell it. Writing reports about the inspection is slow, so Visio wants a program that will make it faster. This program will be used by Visio when they do condition inspections on the field. The main purpose of this program is to save time during the process of writing a report.
The report generator has two parts. The first part is an editor where the user creates titles and texts, and also questions and multiple answers which are all saved in a database. Then the user creates rules for what will happen when you choose a certain answer. In the sec-ond part of the program the user chooses answers for these questions. According to the rules new questions will appear on screen and titles and texts will be added to a report. When the user has answered all questions they will get a report that they can then contin-ue to write on.
Kokoelmat