Lojala bankkunder : En studie i hur man väljer bank på Åland
Sjöström, Sandra (2016)
---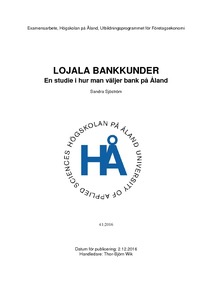 Högskolan på Åland
2016
All rights reserved
Julkaisun pysyvä osoite on
http://urn.fi/URN:NBN:fi:amk-2016120819646
Tiivistelmä
Avhandlingen består av en kvantitativ undersökning gällande kundlojalitet till bank på Åland. Min tanke var att det finns två olika konsumenttyper: de som gör köpbeslut på rationella grunder och de som gör köpbeslut på emotionella grunder.
Huvudsyftet är att ta reda på vilka faktorer som spelar in och är avgörande när man som konsument bestämmer sig för att byta bank eller fortsätta vara kund i den man redan har sitt engagemang i. Är det ett enkelt beslut att ta? Byter man bank flera gånger? Har man flera banker än sin huvudbank?
Teorier om kundlojalitet och konsumentbeteende testas.
Undersökningen har gjorts med hjälp av en webbaserad enkät som publicerats på Facebook, samt mailats till alla studerande på Högskolan på Åland. Den generade 172 svar som jag har korstabulerat för att hitta olika samband mellan de olika åldersgrupperna och mellan den grupp som värdesätter personlig service högre än en låg prisnivå och den grupp som värdesätter en låg prisnivå högre än personlig service.
Slutsatsen är att den grupp som värdesätter personlig service högre än en låg prisnivå även tenderar visa en högre kundlojalitet. De är mindre priskänsliga, påverkas mindre av vad som skrivs om banker i media, byter bank i mindre utsträckning och rekommenderar sin bank för vänner och bekanta i större utsträckning.
The thesis consists of a quantitative survey of customer loyalty to banks on Åland. My thought was that there are two different consumer types: those who make buying decisions based on rational grounds and those who make buying decisions on emotional grounds.
The main aim is to find out what factors come into play and are essential when the consumer decides to switch banks, or continue to be a customer with the bank they are already involved with. Is this an easy decision to make? Do they change bank several times? Are they involved with more banks than one?
Theories of customer loyalty and consumer behavior are put to the test.
The poll was conducted using an online survey posted on Facebook, and mailed to all students at the Åland UAS. It generated 172 responses that have been cross-tabulated to find different relationships between the different age groups and between the group that values personal service higher than a low price level and the group that values low prices above personal service.
The conclusion is that the group that values personal service higher than the low prices also tends to show a higher level of customer loyalty. They are less price-sensitive, less affected by what is written about the banks in the media, change banks less and recommend their bank to friends and acquaintances more frequently.
Kokoelmat