Multi voltage systems for flexible test cell
Wallin, Niklas (2017)
---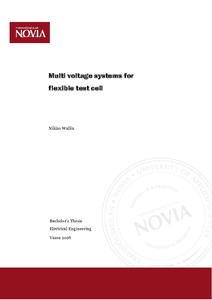 Yrkeshögskolan Novia
2017
All rights reserved
Julkaisun pysyvä osoite on
http://urn.fi/URN:NBN:fi:amk-201701231584
Tiivistelmä
This bachelor's thesis was done for Wärtsilä Finland Oy during the autumn of 2015 and the spring of 2016. My employer was Wärtsilä engine laboratory in Vasa.
The purpose of this thesis is to plan the first engine test cell into a flexible engine test cell. The construction of the flexible cell enables testing of a great range of different engines. It should be possible to change the engine and genset that is being tested, to another engine, in only a couple of days or weeks, depending on the engine and genset. This is a brand new idea for Wärtsilä and this will be the first flexible test cell. This flexible test cell will improve the Wärtsilä laboratory, considering it makes it possible to test a large group of different engines.
The thesis is also about choosing which electrical components that will be used and which supplier will deliver these components. To make it possible for the flexible test cell to test and run different engines, advanced components with high specifications are needed. The component which will make it possible to test and run so many different engines is the multi voltage transformer. This specific transformer will give a wide voltage range to work with. The measurement accuracy of the measurement transformers was another important part of this thesis. In this thesis, there are two construction alternatives.
Detta examensarbete har gjorts åt Wärtsilä Finland Oy. Arbetet utfördes under hösten 2015 och våren 2016. Min arbetsplats var Wärtsilä motorlaboratorium vid Metviken i Vasa. Min uppdragsgivare och arbetshandledare från Wärtsilä var Nicklas Johansson och min handledare från Novia var Ronnie Sundsten.
Syftet med detta examensarbete är att planera om en befintlig testcell till en flexibel testcell som kan testa flera olika typer av motorer och generatorer. Den flexibla testcellen ska göra det möjligt att relativt enkelt och snabbt byta ut den motor som testas till en annan motor. Detta är ett helt nytt koncept och det blir den första flexibla testcellen för hela globala Wärtsilä. Den flexibla testcellen kommer att göra det enklare och snabbare för Wärtsilä att testa en stor mängd olika motorer.
Det som gör det möjligt att testköra en så stor mängd olika motorer är en flerspänningstransformator, som ger ett brett spänningsområde att jobba med. Examensarbetet handlar också, till stor del, om att se över olika komponenter och hitta deras leverantörer, samt att få den bästa mätnoggrannheten för mättransformatorerna. Examensarbetet är till största delen teoretiskt. Resultatet blev två lösningsförslag på hur den flexibla testcellen kan konstrueras.
Kokoelmat