Informationsutbytet mellan fartygsledning och befäl : Utredning av informationskedjan från fraktavtalsförhandling till frakt
Björk, Karin (2017)
---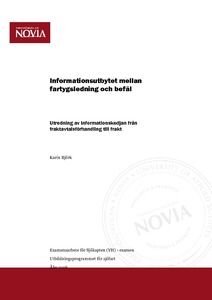 Yrkeshögskolan Novia
2017
All rights reserved
Julkaisun pysyvä osoite on
http://urn.fi/URN:NBN:fi:amk-201701271718
Tiivistelmä
Föreliggande slutarbete försöker på ett övergripande sätt beskriva vägen från frakavtalsföhandling till frakt. Här presenteras en bild av sjöfartens kommersiella sida och undersöks hur den i praktiken påverkar arbetet som fartygsbefälhavare. Arbetet är tudelat i en teoretisk och en praktisk del.
Inledningsvis ges en överblick av händelsekedjan från en begäran om frakt till att fraktavtalsinformationen når befälahavren ombord. De berörda parterna beskrivs, liksom också ansvarsuppdelningen dem emellan.
Den andra delen utgörs av en empirisk undersökning inom rederiet Dennis Maritime. Undersökningen strävar till att utreda hur befälhavarna ser på samabetet mellan operativ leding och fartygsbefäl. Materialet till undersökningen utgörs av en enkät och en intervju. Målet är att i framtiden utveckla samarbetet och därmed underlätta för befälhavarna i deras arbete.
This thesis aims to, in an simple way, explain the events from negotiations to freight. The commercial side of shipping is described, and how it translates into real-life is investigated. This theisis is divided into one theoretic and one practical part.
The dissertation is lead off with an explanation of the parties involved and their liabilities. Followed by a description of the freight chain; from a freight request to freight information received by the master of the vessel.
The practical part constitutes of a survey within the shipping company Dennis Maritime. It analyses the masters perception of the collaboration between vessel and land organisation. To be more precise; the information exchange between the captains themselves and the vessel operator. The purpose is to in the future improve the vessel support within Dennis Maritime.
Kokoelmat