En jämförelse mellan naturlig rumsklang och dess artificiella motsvarigheter
Finnäs, Niklas (2016)
---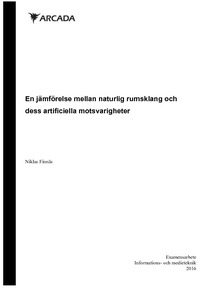 Yrkeshögskolan Arcada
2016
All rights reserved
Julkaisun pysyvä osoite on
http://urn.fi/URN:NBN:fi:amk-201702122303
Tiivistelmä
Arbetets utgångspunkt är att jämföra det naturliga med det artificiella. Inspelningar gjorda i Musikhusets orgelsal Organo i Helsingfors jämförs med ljudklipp som tillsätts digital artificiell rumsklang baserad på ett impulssvar inspelat i samma sal. Syftet är att ta reda på hur nära man kommer ett naturligt sound med dagens digitala teknik och samtidigt svara på tre stycken frågor som ställs i inledning av arbetet:
• Kan ett digitalt reverb låta naturligt?
• Var ligger skillnaderna mellan det naturliga och det artificiella?
• Vad ger olika typer av reverb dess specifika karaktär?
I arbetet undersöks också hur den naturliga akustiken i ett rum påverkar inspelningarna och hur den digitala tekniken runt ett konvolutionsreverb fungerar. Utöver detta finns också ett kapitel som behandlar reverbens historia i inspelningssamanhang.
This paper is based on a comparison between the natural and the artificial. Recordings made in Helsinki Music Centres organ hall, Organo, are compared to audio clips to which are added digital artificial reverberation based on an impulse response recorded in the same hall. The purpose is to find out how close to a natural sound you can get with todays digital technology and at the same time answer three questions asked at the beginning of the paper:
• Can a digital reverb sound natural?
• Where are the differences between the natural and the artificial?
• What gives different types of reverbs their specific characteristics?
Investigations into how the natural reverberation in a room affects the recordings and how the technology surrounding a convolution reverb works are conducted. In addition, there is also a chapter in which the history of reverbs in a recording context is discussed.
Kokoelmat