Att planera, utföra och utvärdera en digital marknadsföringskampanj : Case: Roots Cultural Movement
Vikström, Daniela (2017)
---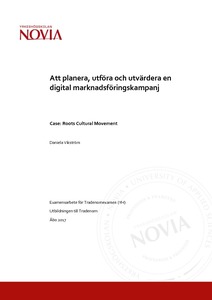 Yrkeshögskolan Novia
2017
All rights reserved
Julkaisun pysyvä osoite on
http://urn.fi/URN:NBN:fi:amk-201704124687
Tiivistelmä
Detta examensarbete handlar om hur företaget Roots Cultural Movements digitala marknadsföringskampanj planerades, utfördes och utvärderades. Roots Cultural Movement är ett finskt småföretag som verkar inom kläd- och livsstilsbranschen, där klädesplaggen tillverkas med hänsyn till miljön.
Syftet med arbetet är redogöra för hur marknadsföringskampanjen skapades, genomfördes, samt vilka metoder som användes vid uppföljningen av kampanjen. Teoridelen består av elementen i kampanjuppbyggnader, med inriktning på marknadsföringskampanjer genom sociala medier. Vidare behandlas även hur kommunikationen genom sociala medier ser ut idag, samt hur det inverkar på utformningen av digitala kampanjer. Företaget önskade att deras ekonomiska information behandlas konfidentiellt, vilket innebar att jag använde mig av icke-ekonomiska mätare i utvärderingen av kampanjen och valde därmed att mäta hur mycket engagemang kampanjen bidragit med bland målgruppen på företagets sociala medier.
Som slutprodukt har jag redogjort för hur jag lyckades skapa, utföra, samt mäta företagets digitala marknadsföringskampanj, vilken visade sig i mätningen av kampanjen lyckats bidra med rekordmycket engagemang bland deras målgrupp på företagets sociala medier. Kampanjens slutresultat visade att denna kampanj var ett av företagets mest lyckade engagemangdrivande marknadsföringskampanjer hittills. Syftet med examensarbetet var att redogöra för en digital marknadsföringskampanj för företaget Roots Cultural Movement, vilket uppfylldes.
This Bachelor's thesis is about how Roots Cultural Movements' digital marketing campaign was planned, executed and evaluated. Roots Cultural Movement is a small finnish business, which operates within the clothing- and lifestyle industry, where the clothes have been sustainably produced.
The purpose of this thesis is to explain how this marketing campaign was created and executed, as well as to describe which tools were used for the campaign evaluation. The theoretical part of this thesis consists of the elements included in marketing campaign structures, focusing on marketing campaigns through social media. Furthermore, subjects concerning on how communication through social media looks nowadays, as well as how it affects the frame of digital campaigns, are considered in the theory as well. The company requested that their financial information is treated confidentially, which meant that I used non-economic indicators in the evaluation of the campaign, and chose therefore to measure how much engagement the campaign created among the target audience on the company's social media.
As the final product, I explained how I managed to create, execute, and measure the company's digital marketing campaign, which appeared in the evaluation of the campaign, to have managed to create a record amount of engagement among their target group in the company's social media. The campaign's results showed that this campaign was one of its most successful engagement driven marketing campaigns so far.The aim of the thesis, which was to describe a digital marketing campaign for the company Roots Cultural Movement, which was fulfilled.
Kokoelmat