Lönsamhet i FM-ligan för ishockey : Kan professionell ishockey fungera som lönsam verksamhet i Finland?
Gotthardt, Max (2017)
---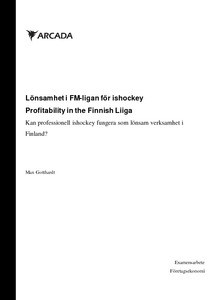 Yrkeshögskolan Arcada
2017
All rights reserved
Julkaisun pysyvä osoite on
http://urn.fi/URN:NBN:fi:amk-2017053010972
Tiivistelmä
Arbetets mål är att undersöka lönsamheten inom den finska professionella ishockey ligan och vilka faktorer som bidrar till ekonomisk framgång. FM-ligan för ishockey är en av Finlands mest följda idrottsserier och den enda fullständigt professionella inhemska serien. Arbetet utgörs av en kvantitativ bokslutsanalys med nyckeltal och en teorigrund. Teorigrunden är baserad på aktuella artiklar samt en intervju med FM-ligalaget HIFK:s VD Jukka Valtanen. Bokslutets delar och uppbyggnad behandlas inför den empiriska forskningen. Bokslutsanalysen täcker en 5 års period, där lönsamheten, likviditeten och soliditeten för de enskilda företagen granskas. I kombination med teorigrunden kan man dra en slutsats om lönsamheten och framtiden för dessa företag. Lagen har väldigt stora personalkostnader årligen vilket orsakar för många företag tryck på likviditetssituationen. Men för att uppnå goda resultat krävs det för de flesta lag framgång på isen, och som förutsättning för det måste man investera på personalen. Resultatet av undersökningen visar att även om det finns några få lag som gör goda resultat på årlig basis, så planerarmajoriteten av lagen runt ett nollresultat och försöker upprätthålla det de har för tillfället. Vissa lag har stora problem att hållas på ytan på egen hand och har behövt och kommer fortfarande att behöva utomstående stöd för att hållas kvar i ligan.
The aim of this thesis is to find out if the teams of the Finnish ice hockey league, Liiga can be profitable and to create an understanding of which factors relate to economic success in the field. Liiga is the most followed domestic sports league in Finland and one of the most important brands in all of Finnish sports, but the teams that make up the league are in various economic situations. The thesis consists of a quantitative research and a theoretical part. The theory is built upon topical articles and publications regarding the subject as well as a breakdown of annual financial reports and their relation to the profitability of a com-pany. The quantitative research is done through analysing the annual reports and key fi-nancial indicators of three different companies in the last five years, that each own a team in the Liiga. By combining the theory and research a conclusion can be drawn about these three companies' financial situation and future in the league. The teams have very large personnel costs each year which creates a lot of pressure on the liquidity of the companies. However, by spending wisely on the teambuilding the teams have a chance of succeeding on the ice which is essential in producing good financial results. The results of the research show that while there are a few teams that do show a decent profit annually, most aim to break even and maintain what they have. There are some teams that struggle on a large scale financially and must be prodded up by other entities to remain on a manageable level.
Kokoelmat