Expressing sustainability in marketing of local food products in rural tourism
Väisänen, Hanna-Maija; Törn, Anne (2015)
---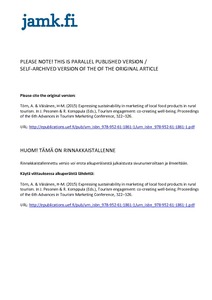 Väisänen, Hanna-Maija
Törn, Anne
University of Eastern Finland
2015
Julkaisun pysyvä osoite on
http://urn.fi/URN:NBN:fi:amk-2017082214468
Lähdeviite:
Väisänen H., Törn A., (2015). Expressing sustainability in marketing of local food products in rural tourism. ,
Tourism engagement: co-creating well-being. Proceedings of the 6th Advances in Tourism Marketing Conference
., p. 322-326, University of Eastern Finland.
URN:NBN:fi:amk-2017082214468
Tiivistelmä
Introduction Food is an inseparable part in creating the tourists' travel experience and the trend risen from responsible consuming makes it possible to highlight the sustainable issues marketing food products and services also in tourism context. Tourists have become more conscious of the environmental, social and cultural effects of products and services and also the interest in sustainable alternatives has increased. Buying local food can be a way for tourist to act sustainable (Everett & Aitchison, 2008). Consumers connect several attributes with local food including also sustainable ones. Therefore it is important to market local food so that it reveals the sustainable message clearly to the tourists. Marketing products or services considering the sustainable characteristics in addition to the most important beneficial attributes for consumers would be an effective concept for marketing local food with sustainability (Belz & Peattie, 2009). Although the importance of food in tourism and the interest of the tourists on local food are recognized, the combination of food, tourism and sustainability in rural tourism context is unexamined in Finland. The objective of this paper is to present how sustainable dimensions are understood via the pictures and texts of local food products. In this paper an interview study of a local food box is introduced.