"Man måst ju anpass se enligt hu e jie" : en kvalitativ studie om hur individer drabbade av Multipel Skleros upplever sin arbetsplats
Ekman, Matilda; Appelö, Katrin (2017)
---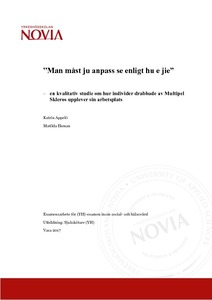 Ekman, Matilda
Appelö, Katrin
Yrkeshögskolan Novia
2017
All rights reserved
Julkaisun pysyvä osoite on
http://urn.fi/URN:NBN:fi:amk-2017090514827
Tiivistelmä
Syftet med denna studie är att redogöra för hur individer med Multipel Skleros upplever sin arbetsplats. Frågeställningarna som skribenterna ställde var: Vilka svårigheter kan en individ med MS uppleva på sin arbetsplats? På vilket sätt kan arbetsplatsen anpassas för individen med MS? Svaret på dessa frågor kan även eventuellt tillämpas till andra neurologiska sjukdomar.
För att samla in material till studien användes semistrukturerad intervju och materialet analyserades med kvalitativ innehållsanalys. Vi hade sammanlagt fyra informanter, tre stycken av dem fick vi tag på via Wasa MS-klubb och en informant kände vi sedan tidigare. Som teoretiska utgångspunkter valdes Merle Mishels teori om osäkerhet samt Callista Roys teori om anpassning.
Resultatet delades in i två huvudkategorier med ett varierat antal underkategorier. I resultatet framkom det att alla informanter upplevde svårigheter på sin arbetsplats, bland annat i form av oregelbundna arbetstider och på grund av den typiska MS-utmattningen. Arbetsplatsen kan anpassas på flera olika sätt, mest effektivt genom att ändra på arbetstiden. Många av våra informanter påpekade hur viktigt det är att hitta ett lämpligt arbete om man har MS, i synnerhet ett arbete som inte kräver mycket fysisk ansträngning är att föredra.
The purpose of this study is to describe how individuals with Multiple Sclerosis experience their workplace. The problem questions asked were: What kind of difficulties can an individual with MS experience in the workplace? In what manner can the workplace be customized for an individual with MS? The answers to these questions can possibly be applied to other neurological diseases as well.
The data was collected by using semi-structured interviews and the data was analyzed by using qualitative content analysis. All in all, we had four informants. We got hold of three informants by contacting "Wasa MS-klubb" and one informant were we previously acquainted with. We chose to use Merle Michel's theory about uncertainty as well as Callista Roy's theory about adaption for our theoretical background.
The results were categorized into two main categories which had a varying amount of subcategories. The results showed that all of our informants had experienced difficulties in their workplace, primarily in the form of irregular work hours and exhaustion caused by the typical MS-fatigue. The workplace can be customized in several different ways, most efficiently by changing the work hours. Our informants made sure to point out how important it is to find a job that is suitable if you have MS, preferably a job that doesn't require a lot of physical effort.
Kokoelmat