Personal characteristics and work-shift related stress among Intensive Care Nurses: results from EVICURES project
Prasla, Munira (2017)
---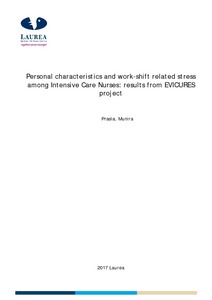 Laurea-ammattikorkeakoulu
2017
All rights reserved
Julkaisun pysyvä osoite on
http://urn.fi/URN:NBN:fi:amk-2017101115959
Tiivistelmä
The present study attempted to explore differences in objective stress indices (heart rate, stress, and relaxation) amongst intensive care nurses based on personal characteristics and work situations. Furthermore, it also aimed to examine the relationship between stress risk with stress indices and subjective perceptions of well-being.

Stress is a complex and broadly studied phenomenon. It varies from person to person and in different professions. In the previous studies, it was highlighted that stress is common in the professions dealing with human subjects, such as nursing care where nurses come in contact with diverse patients with different needs. Intensive care nurses are one of the most vulnerable groups to stress as they deal with critical and uncertain situations.

In the previous literature, stress was studied extensively based on subjective perceptions. However, fewer studies explored stress using objectively measured physiological indicators due to technical limitations. Among other measures, heart rate variability (HRV) is considered as a reliable and consistent indicator of stress as it reveals essential information about changing physiological functions in real time. Current development in wearable technology has made it possible to collect HRV data to study physiological changes in the body and thus to study the stress indices objectively.

The present study made use of pre-existing data of HRV based stress indices of intensive care nurses (n=10, representing 27% of total ICU nursing staffs) during varying work shifts and free time. The data were collected as a part of the EVICURES project by Firstbeat Technologies Oy from a hospital in Seinäjoki, Finland. The material constructs of second by second data of stress indices (n=3495848) and analyzed using SPSS software. Groups based on age, body mass index, activity, and work shifts were made to perform between groups ANOVA tests to investigate the research questions. One summative variable, Mean Stress Risk, was created based on age, BMI and activity to observe the relationship with stress indices.

Descriptive analysis was done followed by correlations and one way ANOVA. The ANOVA between groups results found that stress indices (Heart Rate, Absolute Stress Vector, Absolute Relaxation Vector) differed significantly based on personal characteristics (age, BMI, activity class) and various work-shift times, where increased stress levels are associated with older age, higher BMI, low physical activity, and extended work hours. This study did not find a statistically significant relationship between stress risk and subjective perception of wellbeing. However, these findings cannot be generalized to the larger population. Practical and policy implications such as implementing ergonomic work schedule and considering age, BMI and activity while assigning the work at ICU were discussed.