Dimensions of likelihood to recommend an online course
Mattila, Minna; Mattila, Anssi (2017)
---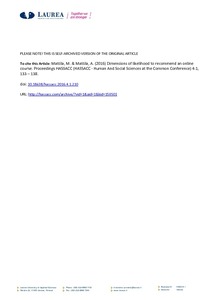 Mattila, Minna
Mattila, Anssi
Human and Social Sciences at the Common
2017
Julkaisun pysyvä osoite on
http://urn.fi/URN:ISBN:978-80-554-1270-2
Lähdeviite:
Mattila M., Mattila A., (2017). Dimensions of likelihood to recommend an online course. Proceedings HASSACC, 4(1), p. 133-138, Human and Social Sciences at the Common.
doi:10.18638/hassacc.2016.4.1.210
Tiivistelmä
In this paper, we examine how the course experience, delivery mode and instructor experience relate to the likelihood of recommending online courses to other students. The course experience, delivery mode related perceptions and expectations, and instructor experience collectively are characterised by 17 dimensions. This paper also discusses the role of overall instructor impression and its potential impact on the recommendation likelihood. The empirical data in use consists of 259 online student feedback responses from 25 online courses taught during March 2012 – July 2016. Based on the findings, we conclude that the instructor experience determines the recommendation likelihood. Overall instructor impression and overall delivery mode impression appear to be most closely related to the likelihood of recommend an online course.