Cultural translation: clarifying the different understandings of physiotherapy for arabic speaking patients and finnish physiotherapists
Bimm, Bronwyn; Al-Ozaibi, Wesam (2017)
---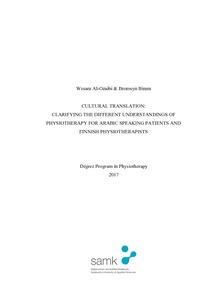 Bimm, Bronwyn
Al-Ozaibi, Wesam
Satakunnan ammattikorkeakoulu
2017
All rights reserved
Julkaisun pysyvä osoite on
http://urn.fi/URN:NBN:fi:amk-2017112217763
Tiivistelmä
The aim of this thesis is to provide insight to the culture of Arabic speaking immigrants to physiotherapists and, reciprocally, the profession of physiotherapy for Arabic patients.

With the influx of immigrants to Finland during the 2015 refugee crisis many Arabic speakers have found themselves deposited in a new land, complete with new language and culture. Likewise, physiotherapists find themselves facing unfamiliar terrain advising on treatment strategies and lifestyle changes while unfamiliar with the cultural preconceptions and structure of the patient's lifestyle. Besides the communication failures there is also a lack of information on the part of the immigrants, since many have never encountered the field before, Arabic patients often do not know what physiotherapy is or what it can do for them.

Language is "the method of human communication, either spoken or written, consisting of the use of words in a structured and conventional way." However, it is culture that dictates convention. That is to say, a word can have multiple meanings in the same language or an entirely different meaning depending on location. Thinking in terms of physiotherapy specifically, a mutual understanding and the formation of a working relationship based on respect and trust is necessary in order for long term treatment to be beneficial. That understanding and relationship could take unnecessarily long or not form at all should neither party have experience with the other's point of view or culture.

With this in mind the authors aim to provide not a translation of the languages of the Arab World but the culture. Using questionnaires to gather information and create products for each group, both Arabic patients and Finnish physiotherapists, the authors seek to explain key aspects to the other in order to aid in the formation of a successful working relationship.

In conclusion, the information gathered through the questionnaires discovered that many Arabic immigrants haven't any idea about the role of physiotherapy in health, and that while many Finnish physiotherapists manage in their treatment, sessions take more time for communication and treatment is slow as Arabic speaking patients are introduced to the idea of being responsible for their own wellbeing.
Kokoelmat