New opportunities of nutrient recycling in water services
KC, Prabesh (2018)
---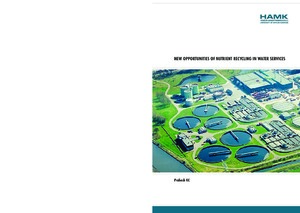 Hämeen ammattikorkeakoulu
2018
Julkaisun pysyvä osoite on
http://urn.fi/URN:ISBN:978-951-784-792-6
Tiivistelmä
The KEHÄ project is funded by the European Regional Development Fund and this report is one part of the project invested into the research of new cutting-edge technologies for nutrient recycling in the water services.
The harmful discharge of nutrients such as phosphorus and nitrogen into surface water is known to deteriorate water quality and cause eutrophication. The most visible example of such deterioration for Finland is the Baltic Sea. Therefore, the European legislation such as the EU Urban Wastewater Treatment Directive 91/271/EEC and the Government of Finland Decree on Urban Wastewater Treatment 888/2006 demand an efficient removal of phosphorus and nitrogen from the wastewater treatment plants. This then leads to one important question: What should be done with the removed nutrients? The first European Sustainable Phosphorus Conference, which took place in Brussels on March 6-7, 2013 highlighted that the annual import of phosphorus to the European Union costs many billions of Euros every year. Not only this, the scientific community has recently warned that the planet is going to run out of phosphorus reserves in the coming 80 years. Thus, the answer to what should be done with the removed nutrients turns out to be simple yet profound - "nutrients recycling".
This report, therefore, has analyzed the existing nutrient removal technologies based on mechanical, biological, chemical, combined and advanced models. Chapter 9, deals with the Limit of Technology concerning nutrient removal, and highlights the efficiencies of different models. The significant part of the report focuses on nutrient recovery, and the existing technologies that provide efficient recovery methods. It was observed that the recovered nutrient products could be used as magnesium ammonium phosphate or struvite, stabilized sludge, ash, nitrate products or simply applied to irrigation. To provide an overview of the applied science of nutrient recovery technologies, examples from countries such as Finland, Germany, Japan, the Netherlands, Norway, Switzerland and Sweden are discussed in Chapter 14. The report has also investigated into the emerging ideas and technologies in the field of nutrient recycling. Due to the scattered nature of such information both online and offline, some of the latest ideas might have been missed. Despite this, Chapter 15 shows that nutrient recycling technologies are constantly emerging, and that, the future is full of new and bold ideas. Overall, this research report highlights the existing as well as emerging technologies that play a very vital role of recovering nutrients. As such, a framework can be developed in the future about the new opportunities of nutrient recycling in water services.