The Primary study of cruise tourism in Guangzhou among young people
Qu, Yiwei (2018)
---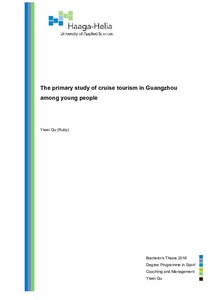 Haaga-Helia ammattikorkeakoulu
2018
All rights reserved
Julkaisun pysyvä osoite on
http://urn.fi/URN:NBN:fi:amk-201901031037
Tiivistelmä
Cruisetourism is adevelope rapidlyindustryinChina, and Chinawill be thesecondlargest cruisemarketafter theUnitedStatesin thefuture. Also Guangdongis theepitomeof China'seconomy. At thesametime,youth will be themainforceof consumptionin the future,sothispaper discussesthecurrent situationof young people'sawarenessof cruise tourism inGuangzhou. Themainaim of thethesiswas tofindout thepsychologicalcognitive processwhen young peoplechosecruisetourism andwhat is the biggest challenge cruise tourism maybe faced. The methods of the study used questionnaire to collect the data which based on online submission.Then the study summarized the Guangzhou residents' cruisecognition and thefactorslimited to make purchase decisions. Itis concluded that young peopleages from 18 to 25have great interests in cruisetourism, and this group of people will become the main force for the economic development of cruisetourism in Guangzhou. But this group is often harder to please. According to the personality characteristics of this age group, this paper puts forward some suggestions for the improvement of cruise tourism in Guangzhou
Samankaltainen aineisto
Näytetään aineisto, joilla on samankaltaisia nimekkeitä, tekijöitä tai asiasanoja.
Häätylä, Anssi-Petteri

;

Pistokoski, Pyry

(

Rovaniemen ammattikorkeakouluLapin ammattikorkeakoulu

,

2013

)

Tämän opinnäytetyön tarkoituksena on kartoittaa Tervolan matkailun nykytilaa. Tavoitteena on saada todenmukainen kuva Tervolan matkailijasegmenteistä, matkailupalveluista ja matkailijoiden viipymästä. Työssä otetaan huomioon ...

Varhela, Angela

(

Laurea-ammattikorkeakoulu

,

2013

)

The main aim of the thesis is to reflect the current status of Tourism development in Rwanda post war, familiarized with sustainable local development and sustainable economic development and how the tourism can play a ...

Algueró Durany, Mariona

(

Centria ammattikorkeakoulu (Keski-Pohjanmaan ammattikorkeakoulu)

,

2012

)

This thesis titled 'New life styles, new barriers to break down. Rainbow family tourism; service description and analysis', was written to offer the opportunity to get to know one of the latest services in the tourism ...