Kvalitativ jämförelse av markutrustning anpassad för spänningsmatning för flygfält
Aalto, Jukka (2010)
---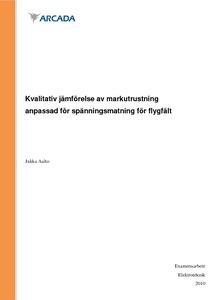 Arcada - Nylands svenska yrkeshögskola
2010
All rights reserved
Julkaisun pysyvä osoite on
http://urn.fi/URN:NBN:fi:amk-2010061412102
Tiivistelmä
Syftet med detta arbete är att ta reda på vilka urvalskriterier flygfältet ställer på sin markutrustning som används vid spänningsmatning för flygplan. Urvalskriterierna jämförs sedan med varandra och resultaten är i tabeller eller grafer så att läsaren lätt skall se skillnaderna mellan de olika markutrustningarna.
Markutrustningarna som jämförs i arbetet är produkter som företaget Cavotec erbjuder sina kunder. Markutrustningarna som används i arbetet är indelade i 2 huvudgrupper; underjordiska och ovanjordiska. Till gruppen underjordiska hör "Mini-hatch Pit", "Hatch Pit" och "Pit Pop-up". De ovanjordiska är "Bullhorns", "Scissors", "Power-Caddy", "Hoist", "Mini-coil" och "Coil".
Urvalskriterierna som jämförs i arbete är utvalda så att endast de mest relevanta för flygfält är inkluderade. Urvalskriterierna som används i arbetet är spänningsmatning, klimatzon, position av flygplansparkering, passagerarbryggans typ, kostnad och livslängd.
Arbetet är gjort för Cavotec Finland Ab för att underlätta försäljarnas samt företagets kunder att lätt kunna jämföra de olika markutrustningarna, och därefter välja den optimala utrustning som motsvarar deras egna behov.
Källorna i arbetet består största delen av litterära produktkataloger och manualer för flygplan samt flygfält men också elektroniska källor är använda.
The purpose of this work is to find out what criteria the airfields put at their ground equipment that is used in power supplies for aircraft. The selection criteria are then compared with each other and the results are in tables or graphs so that the reader should easily see the differences between the various ground equipment.
Ground-equipment which is used in the compares are products that the company Cavotec is offering their customers. The equipment used in the thesis is divided into two main groups, underground and above ground. The group of underground consists of three different equipment, "Mini-Hatch Pit", "Hatch Pit" and "Pit Pop-up". The above ground equipment is "Bull Horn", "Scissors", "Power-Caddy," "Hoist", "Mini-Coil" and "Coil".
The selection criteria being compared in the work are selected so that only the most relevant for airports are included. The selection criteria are characteristics of power supply, climate zone, the position of aircraft parking, passenger bridge type, cost and longevity.
The work is done for Cavotec Finland Ltd to facilitate the company's dealers and customers to easily compare the various ground equipment, and then choose the optimal equipment to meet their own needs.
The sources of the work consists mostly of literary product catalogs and manuals for aircraft and airfields, but also electronic sources are used.
Kokoelmat