"För i den åldern är dom ju ganska härliga att jobba med"
Järlstig, Hanna; Larsson, Johanna (2010)
---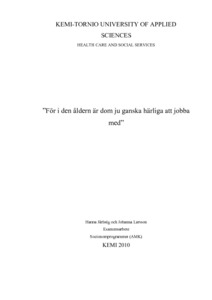 Järlstig, Hanna
Larsson, Johanna
Kemi-Tornion ammattikorkeakoulu
Lapin ammattikorkeakoulu
2010
All rights reserved
Julkaisun pysyvä osoite on
http://urn.fi/URN:NBN:fi:amk-2010092213192
Tiivistelmä
Beskrivning av temat: Syftet med studien är att undersöka det preventiva arbetet för att motverka psykisk ohälsa bland barn och ungdomar i Haparanda kommun. Samt att se vilken del kuratorn har i arbetet och om dennes roll behöver utökas.
Teoretisk sammanställning: I den teoretiska delen i studien, har forskarna samlat information från olika källor för att få en djupare förståelse av ämnet från olika utgångspunkter. Utifrån teoretiska synpunkter lyftes sociala faktorer fram (barnets utveckling, risker och prevention). Teoretiska källor används som en reflektion till forskarna för ökad kunskap under processen.
Metodologisk sammanställning: Metoden i denna studie är fokuserad på en kvalitativ forskning. Tillvägagångssättet är baserat på ett hermeneutiskt synsätt och forskarna har använt en fokusgrupp som intervjumetod. Forskningen är uppdelad i olika delar: Bakgrund där forskarna samlat all bakomliggande fakta inom områderna barnetsutveckling, risker och prevention. Metodval och tillvägagångssätt beskriver metoder forskarna använt under processen. Rubriken analys är forskarnas sammanfattning på det forskarna ansett vara relevant vid deras intervju med respondenterna. Slutligen har forskarna avslutat med reflektioner om forskningens gång.
Resultat: Resultatet är ganska oväntat eftersom forskarna kom fram till att det preventiva arbetet för att motverka psykisk ohälsa bland barn och ungdomar är mycket brett då det finns många olika myndigheter och organisationer som arbetar preventivt.
Slutsatser: Studien indikerar på att det fortfarande finns behov av utveckling och förbättring inom området. Det finns mycket kunskap och idéer men inte resurser att utföra dessa.
Forskarna reflekterar över att en utökning av lärarnas utbildning borde göras, genom att tillägga kunskap om kris och konflikthantering.
Thesis description: The purpose of this study is to do a research about the preventive work to countervail the mental illness among children and youths in the municipality of Haparanda. Also to see the school social workers role in the preventive work.
Theoretical summary: The theoretical part deals with information about this topic from different points of view. These theories explain the researched topic to get at deeper understanding. According to theoretical views the focus is on the social factors (children's development, risks and prevention). Theoretical sources are used as a reflection for the researchers to get more knowledge during the process.
Methodological summary: The method in this study is focused on a qualitative research. The procedure is based on a hermeneutic point of view and they have used a focus group as the interview method. The research is divided in different parts: Background there the researchers has collected all the background information about children's development, risks and prevention. The choice of method describes the methods the researchers have used during the process. The topic analyze is the conclusion the researchers have considered relevant during their interview with the interviewed. The researchers have as discussed about the process of the research.
Main results: The result is rather unexpected because the researchers concluded that the preventive work to countervail the mental illness among children and youths is very broad since there are many different authorities and organizations working with prevention.
Conclusions: This study indicates that there still is a need for development and improvement in this area. There is a lot of knowledge and ideas but not enough resources to do so. The researchers reflect on the teaching programs which they think should include courses about how to deal with crisis and conflicts.
Key words: Preventive, mental illness, children & youths, children's development.
Kokoelmat