Building principles of equality in the Finnish temporary agency work sector : How can the Finnish temporary agency work policies be developed to encourage fair and equal treatment of temporary agency employees?
Eskola, Katja (2010)
---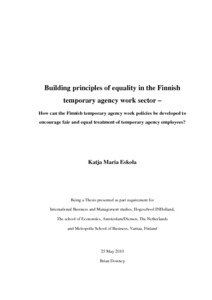 Metropolia Ammattikorkeakoulu
2010
All rights reserved
Julkaisun pysyvä osoite on
http://urn.fi/URN:NBN:fi:amk-2010091112973
Tiivistelmä
Temporary agency work has been generating discussion at government levels and academic circles as well as among trade unions internationally. The level of job quality and the rights of temporary employees have been topics of debate for years, but not much has been agreed upon. National legislations, diverse labour market structures and cross-cultural differences are the main reasons that complicate drafting internationally viable regulations for the use of temporary agency work, for example, within the European Union.
On national levels the problems of temporary agency work have been solved more successfully. For example, Austria and Sweden have succeeded in establishing viable ground rules for the use of temporary agency work. In Finland, however, use of temporary agency work is still relatively free and few regulations exist. Therefore, the purpose of this thesis is to examine the Finnish temporary agency work sector and the problems Finland is facing due to rapidly increased number of temporary agency employees and the country's inability to answer these challenges, as well as to present viable development suggestions for the future.
Because of the benefits temporary agency work has to offer for organizations, its popularity is continuously increasing in Finland. Organizations using temporary agency work can benefit from a highly flexible workforce and have access to skills unavailable within organizations. Temporary agency work also simplifies employment processes and can work as a recruitment channel for organizations. For employees, temporary agency work can provide flexibility in working hours and function as an employment channel. For some, temping can also be a career development opportunity.
However, due to insufficient regulations in Finnish temporary agency work sector, temporary agency employees are facing problems related to a lack of job security, instability of incomes and low career development possibilities, to name a few. Secondary and primary research conducted for this thesis support this argument by concluding that inequality exists among the temporary agency employees and permanent workforce. The problems are not however identical throughout all occupational sectors. There are industry specific characteristics complicating the general comparison of the key problems in temporary agency work sector.
The main reason for the current problems in Finnish temporary agency work sector is the lack of regulation in the field. Finnish government has failed to establish rules that contribute to solving the current problems occurring with the use of temporary agency work in Finland. Therefore, specific legalisation is needed to guarantee fair and equal treatment of temporary agency workers in comparison to other forms of employment. Finland could follow the examples of Austria and Sweden, where temporary agency work policies are well integrated with the countries' current labour legislations.
In order for the new Finnish temporary agency work legislation to be successful, commitment from both user organizations and temporary work agencies is needed. Compliance with the new regulations can be achieved through well-established control and supervision. Building principles of equality in Finnish temporary agency sector require time and resources as well as cooperation from all the parties of interest.