Managing Proposal Projects in a Cross-cultural Company
Kekarainen, Jani (2008)
---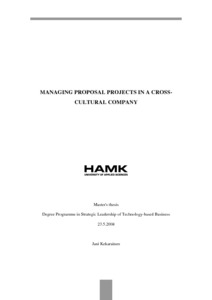 Hämeen ammattikorkeakoulu
2008
All rights reserved
Julkaisun pysyvä osoite on
http://urn.fi/URN:NBN:fi:amk-200904282231
Tiivistelmä
The purpose of this Master's thesis was to develop proposal procedure for a cross-cultural organisation. Different national and organisational cultures influence nowadays in global companies, but companies usually do not pay enough attention to cultural effectiveness when developing procedures.
Request for proposal is a common purchasing practice in the high-technology business. Many different types of expertises are typically required when a company is answering to a proposal request. Most often this means that employees from different cultures need to be involved in the proposal projects.
This study utilised a case study as a research method. A global high-technology corporation was selected as a target for this study. The aim was to improve the proposal procedure of a Finnish subsidiary of the corporation. The procedure was studied in situations where the proposals are produced together with the Finnish subsidiary and the headquarters, which is located in Russia.
This Master's thesis was divided into three parts: theory, empiric analysis and development. The theory part acted as an important source for the empiric part of the study. Existing theories provided information for developing proposal procedures and identifying the cultural phenomenon of the studied company. The company and existing proposal procedure of the studied company were introduced in the empiric part of the study. The existing procedure was compared against the proposal procedure models found in the literature. Differences found during the comparison were used as development ideas. Qualitative research methods were used for studying the different cultural aspects of the company. Employees of the company were interviewed, interviews were analysed with the qualitative analysis methods and the results of the analysis were used for improving the proposal procedure of the studied company. An improved proposal procedure was introduced as a contribution of this study.
Proposal work related theories concentrate on creating a winning strategy and focusing on the customer, but they do not pay attention to the complicated and cross-cultural organisation structures typically involved in the proposal projects. Comparing to the theoretical models the situation was contrary in the studied company. The proposal procedure of the company took into account some specialities of its cross-cultural organisation structure, but it did not reveal necessary information about how to create the winning strategies and how to focus on the customer.
The results of the study provided similar findings as described in the culture related theories. Improving cultural awareness of the employees of the studied company and increasing common gatherings and face-to-face meetings were found as the most important solutions for improving the co-operation of employees of the different country-organisations of the studied company.
Opinnäytetyön tarkoituksena oli kehittää monikulttuurisen organisaation tarjousprosessia. Tämän päivän globaaleissa yrityksissä vaikuttuvat erilaiset kansalliset ja organisaatiokulttuurit, mutta yritykset eivät yleensä kiinnitä huomiota kulttuurien vaikutukseen kehittäessään toimintamenetelmiään.
Tarjouspyyntö on yleinen hankintamenetelmä korkean teknologian bisneksessä. Tarjouspyyntöön vastaamiseen tarvitaan paljon erilaista osaamista. Yleensä tämä tarkoittaa sitä, että tarjousprojekteissa tarvitaan työntekijöitä, joilla on erilainen kulttuuritausta.
Tässä työssä hyödynnettiin tapaustutkimusta tutkimusmenetelmänä. Tutkimuskohteeksi valittiin globaali korkean teknologian yritys. Tarkoitus oli parantaa yrityksen suomalaisen tytäryhtiön tarjousprosessia tilanteessa, jossa tarjoukset tuotetaan yhdessä suomalaisen tytäryhtiön ja Venäjällä sijaitsevan pääkonttorin kanssa.
Opinnäytetyö jakautuu teoriaosaan, empiiriseen analyysiin ja kehittämisosuuteen. Teoriaosuus toimi tärkeänä lähteenä työn empiiriselle osuudelle. Olemassa oleva teoriakenttä tarjosi informaatiota tarjousprosessien kehittämiseen sekä tutkittavan yrityksen kulttuuri-ilmiön tunnistamiseen.
Tutkittavan yrityksen profiili ja nykyinen tarjousprosessi kuvattiin työn empiirisessä osassa. Nykyistä tarjousprosessia verrattiin kirjallisuudesta löytyviin malleihin. Vertailusta löytyneet erot hyödynnettiin kehitysideoina. Laadullisia menetelmiä käytettiin yrityksen erilaisten kulttuurillisten näkökulmien tutkimiseen. Yrityksen työntekijöitä haastateltiin, haastattelut analysoitiin ja analyysituloksia käytettiin tutkittavan yrityksen tarjousprosessien kehittämiseen. Parannettu tarjousprosessi on esitelty työn kontribuutiona.
Tarjoustyöhön liittyvien teorioiden painopiste on voittajastrategian luomisessa ja asiakkaaseen keskittymisessä, mutta niissä ei huomioida monikulttuurisia organisaatiorakenteita, joita tyypillisesti liittyvät tarjousprojekteihin. Tutkittavassa yrityksessä tilanne oli päinvastainen. Yrityksen tarjousprosessi otti joiltain osin huomioon yrityksen monikulttuurisen rakenteen, mutta ei keskittynyt tarpeeksi voittavan strategian luomiseen eikä asiakkaaseen keskittymiseen.
Opinnäytetyön aikana tehdyistä haastatteluista löytyi samankaltaisuuksia kulttuuriteorioiden kanssa. Kulttuuriherkkyyden lisääminen ja yhteisten kokoontumisten sekä tapaamisten määrän kasvattaminen nähtiin parhaina keinoina eri maaorganisaatioista tulevien työntekijöiden välisen yhteistyön kehittämiseksi.
Samankaltainen aineisto
Näytetään aineisto, joilla on samankaltaisia nimekkeitä, tekijöitä tai asiasanoja.
Juurikivi, Satu

(

Satakunnan ammattikorkeakoulu

,

2013

)

The aim of this thesis is to study the main characteristics of culture and its subareas. The focus is at the corporate level and cultural focus after general level to research cultural differences between the Finnish and ...

Pessala, Heli

(

HAAGA-HELIA ammattikorkeakoulu

,

2012

)

Globalization has resulted in companies engaging more and more into international operations. During recent decades the focus of international growth opportunities has been in emerging economies which share substantial ...

Plukka, Mariia

(

Tampereen ammattikorkeakoulu

,

2010

)

This bachelor's thesis is a study into the need for cultural coaching from a student perspective. It starts off from the observation that students in the TAMK IB (International Business) line of studies have different needs ...