Diversifiering: lönsamt även under krissituationer? : Hur korrelationen mellan två aktiemarknader under krissituationer förändras
Gerich, Kim von (2011)
---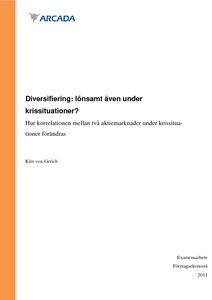 Arcada - Nylands svenska yrkeshögskola
2011
All rights reserved
Julkaisun pysyvä osoite on
http://urn.fi/URN:NBN:fi:amk-2011061412003
Tiivistelmä
Skribenten undersöker hur korrelationen mellan olika marknader under en aktiemarknadskris förändras för att ta ställning vad som händer med diversifieringsnyttan under krisperioderna med hjälp av påståendet: "under en aktiemarknadskris är korrelationen mellan två marknader större än före och efter krisen".
Korrelationerna räknas ut med hjälp av marknadsindex från tolv utvecklade marknader mellan åren 1970 och 2011 och för ytterligare sex utvecklingsmarknader åren 1988-2011. Utifrån datamaterialet identifieras enligt bestämda definitioner aktiemarknadskriser som inträffat under observationsperioden. Korrelationerna mellan marknaderna jämförs mellan de identifierade kriserna och tidsperioder före samt efter kriserna. Ytterligare granskas hur mycket de olika marknadsindexen under de olika kriserna sjunkit från dess högsta värden. Med hjälp av erhållna värden skall det kunna tolkas hur diversifieringsnyttan under en aktiemarknadskris förändras.
Under observationsperioden identifierades fem kriser vars medellängd var 16 månader. Under de olika kriserna sjönk marknadsindexen i genomsnitt betydligt från de högsta värdena strax innan kriserna började och flera marknader upplevde en aktiemarknadskris samtidigt. I genomsnitt ökade korrelationerna under kriserna jämfört med tidsperioderna före och efter dem. Marknadsindexen sjönk mest under de två senaste kriserna men den allmänna korrelationen under kriserna minskade. Korrelationsnivån ökade under de senaste kriserna för alla de jämförda tidsperioderna. Utvecklingsmarknaderna orsakade under de sista kriserna en större genomsnittlig indexnedgång men minskade på den totala korrelationen av alla marknader. Påståendet antogs vara sann och med hjälp av den bevisades det att diversifieringsnyttan minskar något under en aktiemarknadskris. Resultaten föreslår att korrelationsnivåerna allmänt har en stigande trend men att förändringen under krisperioder minskat.
The author studies how correlations between stock markets interact and change under periods of significant market declines to determine how benefits of diversification change under these declines. The correlation changes are compared with the help of a statement: "Correlations between two stock markets are higher under market declines than under periods before and following the decline". The statement serves as a measure to determine to what extent correlation under stock market declines change and how this affects the benefits of diversification.
The correlations are measured with twelve developed market indices provided by MSCI-Barra and the measured period of time being the years 1970-2011. Furthermore, six developing markets are studied for the time period 1988-2011. The correlations are measured between the different markets for time periods before, during and after stock market crises. Stock market crises are identified with predetermined measures during the whole observation period. The correlations between different markets are compared with all the found crises as well as for the periods before and following the crises. Stock market price declines between the different crises are also compared to determine if several markets experienced a crisis simultaneously.
Five Stock market crises are found to have occurred during the observation period. The average length of the crises was 16 months. The findings show that several stock markets experienced price declines simultaneously. The correlation was generally higher during the crises periods than it was before and following the crises. During the two last crises the price declines were the most severe. The general correlation levels also rose during the last crises for all the measured time periods. The developing markets raised the average price decline during the last two crises periods. They did, however lower the correlations during the last two crises. Because correlations tended to rise during the crises a conclusion was made that the benefits of diversification would not be as profitable under stock market crises than under the periods before and following the crises. The results suggest that correlation levels in general are rising but that the change during periods of crisis is getting smaller.
Kokoelmat