The Catch for Chinese Sea Turtles: An empirical assessment of the employability of overseas versus nationally educated Chinese students
Jiang, Yiru (2010)
---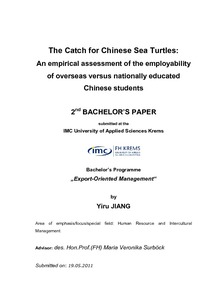 Metropolia Ammattikorkeakoulu
2010
All rights reserved
Julkaisun pysyvä osoite on
http://urn.fi/URN:NBN:fi:amk-2011062712453
Tiivistelmä
According to the latest "Global Education Digest 2010" published by the UNESCO, with 441,186 overseas students, China is the largest outbound country for overseas education. Many studies have been done recently in regard to the employability of the returnees as well as their impact on China's economy and society. Those studies are conducted from a macro angle focusing on the returnees as a collective. Yet, there has been little empirical research which has zoomed in the investigation lens to focus on the competitive advantage of the returnees in certain professional fields in comparison with the locally educated Chinese employees. This Paper hence will assess the returnees' employability in comparison to that of the nationally educated graduates and draw a comprehensive conclusion.
Dem neuesten "Global Education Digest 2010" Bericht der UNESCO zufolge ist China, mit 441,186 Auslandsstudenten, das größte Herkunftsland internationaler Studenten. Eine Vielzahl aktueller Studien analyisiert die Employability der zurückgekehrten Studenten sowie deren Bedeutung für China's Wirtschaft und Gesellschaft. Diese Studien werden von einer Makroperspektive durchgeführt und fokusieren auf die rückkehrenden Studenten als Kollektiv. Es wurde jedoch wenig empirische Forschung betrieben, welche den Wettbewerbsvorteil der zurückgekehrten Studenten in bestimmten profesionellen Funktionen im Vergleich zu lokal ausgebildeten chinesischen Arbeitsnehmern analysiert. Diese Arbeit bewertet daher die Employability der zurückgekehrten Studenten im Vergleich zu national ausgebildeten Universitätsabsolventen und zieht eine umfassende Schlussfolgerung.
联合国教科文组织最新公布的《2010年全球教育摘要》显示,目前,世界主要国家总共有441186名中国籍海外留学生,中国已成为世界上最大的海外教育输出国。当今的许多调查研究侧重于海归的就业能力,以及他们对中国经济和社会的影响,这些研究是从宏观的角度出发,以海归作为一个总体来进行考察的。然而,很少有实证研究把调查镜头放大到某些专业领域,把海归的竞争与本土人才作一比较。因此,本论文将评估海归的就业优势,并比较其与本土人才的就业竞争优势,以此归纳总结出一个全方位的结论。
Samankaltainen aineisto
Näytetään aineisto, joilla on samankaltaisia nimekkeitä, tekijöitä tai asiasanoja.
Xu, Xiao

(

Metropolia Ammattikorkeakoulu

,

2013

)

The large population and the growing purchasing power of Chinese consumer have made China become an important market for many businesses, and to understand the needs and aspirations of China's new and potential consumers ...

Orjala, Johanna

(

Vaasan ammattikorkeakoulu

,

2009

)

The research can be divided into three; an introduction, a theoretical and an empirical study. The theory deals with culture, quality of services, formation of service quality and the measurement of customer satisfaction. ...

Wang, Xiaoying

;

Jiang , Pan

(

Kymenlaakson ammattikorkeakoulu

,

2011

)

With the increasing number of Chinese students studying abroad, more and more Chinese students and their parents consider such an opportunity nowadays. The competition among international education services in different ...