Potential Use of Web 2.0 Tools in Technical Analysis of Securities
Kryzhanovska, Anna (2012)
---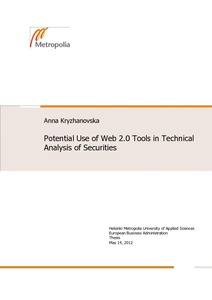 Metropolia Ammattikorkeakoulu
2012
All rights reserved
Julkaisun pysyvä osoite on
http://urn.fi/URN:NBN:fi:amk-2012060611890
Tiivistelmä
The purpose of this thesis is to examine what, if any, insight Web 2.0 tools can give to an investor on the human factor influencing market behaviour. The hypothesis is that Web 2.0 tools reflect the general population mindset, which in turn mirrors the market fluctuations and trends. Therefore, this information can be used to understand market fluctuations, to detect trends, and to recognize the emergence of market bubbles from the behavioural finance point of view. The information and its potential application is looked at from a purely theoretical point of view.
This dissertation is split into four distinct parts. The first covers behavioural elements influencing the volatility of the market, and whether it is entirely efficient. To understand this, specific elements influencing the decision-making process of investors are considered, specifically herding behaviour, the influences of opinion leaders and overconfidence caused by illusion of knowledge. The second part focuses on defining what precisely Web 2.0 is and what information it delivers, particularly highlighting information it displays on human behaviour. Particular attention is paid to social networks, as they are a perfect breeding ground for formation of bias.
On the basis of the two preceding sections, the tools are analysed from the perspective of what value they carry for investors' trading strategies. Since human sentiment is one of the major factors influencing pricing anomalies in the market, a study on a social network's ability and potential to predict future market fluctuations is analysed. Finally, the last section analyses the various key risks and oversights occurring in relation to human behaviour elements and the tools discussed.
The findings confirmed that Web 2.0 elements reflect human behaviour, particularly since its [Web 2.0's] design is centred around interaction between users and sharing of opinions and ideas. It has also revealed that just as much as it reveals the human factor, it influences those elements as well. This means that Web 2.0 tools are fundamental in development of trends and herding behaviour.