Consideration of using 3G cellular network to monitor ABB's remote circuit breakers
Afolabi, Ibrahim (2013)
---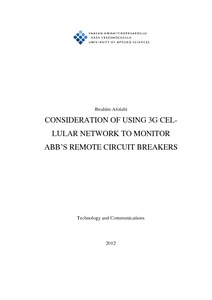 Vaasan ammattikorkeakoulu
2013
Julkaisun pysyvä osoite on
http://urn.fi/URN:NBN:fi:amk-201303073058
Tiivistelmä
Increase in the energy demand for domestic purposes as well as in the manufactur-ing industries has led to a rapid and proportional increase in the electrical energy production today. In meeting this huge electric consumption and demand, proper network and supply of electric power has to be in place from the electric energy generation stations to the final user i.e. the consumers at home, in offices and heavy manufacturing industries.
Achieving this goal without mincing safety and security, pose a great challenge to the energy producers. From the proper planning of electrical networks to the me-ticulous and adequate monitoring and control of various electrical substations and power outlets this is in no way an easy task. Transmission of intelligent infor-mation other than kilovolts via normal high and low tension cables posed a great difficulty. Hence, the need to use another means of data communication, precisely wireless communication.
The first solution as used by ABB was a radio frequency modem which turned out not to be able to properly handle the complexity of some electrical networks. Then, GSM modems were introduced but did not last for too long because they suffer from periodic re-establishment of connection and to solve this problem, GPRS modems were introduced in 2003. And now am introducing 3G modems to ABB with its numerous benefits and a major focus on the influence of the round trip delay time and packet loss. To research the significance of this two factors, an emulation program was designed to send and receive data over a 3G modem, data samples were taken and analyzed and it was discovered that the factors considered are significantly minimal when compared to the rest of the previous technologies especially the radio frequency modem. And it can be safely concluded that the 3G modem can be used to replace any of the previous technologies for the purpose of monitoring the electrical power distribution network.
Alekun ninu ibeere fun agbara fun elo ile ati ileise to n sheda nkan ti se okunfaa to yara kankan to si je ogbogba ninu imuwa agbara itan ina ni ode oni. lati le dojuko opo elo ati ibeere to n be fun itan ina yii, eka to peye ati ifikun itan ina yii gbodo wa nile lati ibujoko to n mu agbara itan ina lo si odo awon ti yoo lo keyin ni ile, ibi ishe, ati awon ile ishe ton sheda nkan.
Asheyori ishe yii lai fi alafia ati ibolowo ewu sere je ohun ti o doju ija ko awon oludasile agbara itan ina. Bere lori eto eka itan ina, titide bibojuto ati idari awon ibujoko itan ina oniranran pelu awon ogba imu ina wa kereje kereje, kii se ise kekere rara. Atagba ifisu/otelemuye ti oyato si kilofolt, pelu awon okun ina alagbara to se regi, nla ati kukuru je ohun ti o doju ija koni. Lati ara beelo, lilo ona omiran lati se atagba awe-oro jeyo. paapa julo siso oro lai lo okun tin gbe ohun ranshe ninu afefe.
Ona abayo akoko ti ABB lo ni Radio frequency modem. Eyi kii le gbo isoro idijulolu awon eka itan ina. leyin naa ni atun se afihan awon Modeemu ero telifoonu agbeka ti amo si GSM,amo won ko pe rara nitori won maa n dakudaji. lati le bori isoro yii, ise afihan ero GPRS modem waye ni odun edeegbewa le meta. Nibayi, mo n se afihan 3G modem fun ABB, ati awon anfaani ti orogbayiika pelu idojuko pataki si asiko idaduro ajo rogodo ati ipadanu eru. Lati se agbeyewo pataki awon ohun mejeeji yii, ani lati se progiramu eyi ti alefi koko gbiyanju isisee re wo na, nibi isoro ngbesi tin lo 3G modem, ase iyannana awon esi ti ari latara igbeyewo ti afi progiramu na se, asi ri wipe o mo ni iwonba legbe awon tekinologi ateyinwa, paapa julo Radio frequency modem. Nigbeyin, alefi gbogbo enu so wipe fifi 3G modem ropo tekinologi ateyinwa fun ise amojuto eka itanna yio je ohun ti koni mu ewu wa rara.
Kokoelmat