Cultural diversity in hospitality management : how to improve cultural diversity workforce
Korjala, Veera (2013)
---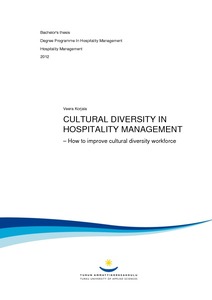 Turun ammattikorkeakoulu
2013
All rights reserved
Julkaisun pysyvä osoite on
http://urn.fi/URN:NBN:fi:amk-201303283759
Tiivistelmä
The bachelor´s thesis investigates cultural diversity in the hospitality management. It aims at presenting effective ways to improve cultural diversity in a workplace. This study was commissioned by JW Marriott San Antonio Hill Country Resort & Spa in Texas, USA and three hotels in Stillwater, Oklahoma, USA: Atherton Hotel, Hampton Inn & Suites and Residence Inn. The bachelor´s thesis incorporates culture theories and their applications to the workplace. Additionally, it focuses on cultural diversity dimensions in hospitality workplace, such as its benefits and challenges, its reflection in the work environment which have been related to the organization's cultural diversity management. Eventually it provides solutions, such as a corporate strategic plan which focuses on the improvement of cultural diversity in the workplace by means of cultural diversity training. These best practices of cultural diversity are discussed in detail both in the literature review and in the study. The bachelor's thesis has used two research methods, both qualitative and quantitative research approach. Qualitative research method was implemented by seven in-depth interviews with a target group of managers in the JW Marriott resort hotel whereas the quantitative research component executed captive questionnaire survey and included target group of entire workforce of the three properties in Stillwater. The aim of the interview was to support the literature review and gather new ideas and improvement areas for cultural diversity management and culture infusion. The captive questionnaire survey mainly focused on collecting employees' attitudes towards their cultural values and other employees' cultures. Cultural diversity can have a significant influence on the hospitality business. The study reveals that cultural diversity is highly important in hospitality business due to global customer-related industry. However, this phenomenal benefit has challenges as well, such as communication barriers between employees. The best practices for enhancing cultural diversity resulted in establishing a cultural diversity committee, a language bank or a cultural event. Additionally, customs are the most appealing cultural attribute which the workforce wants to discover from other cultures. Cultural diversity has been considered in the hospitality business but is not carefully implemented. Therefore, there is a strong need for more education and training on cultural diversity in the future.
Tämä opinnäytetyö käsittelee monikulttuurista työympäristöä matkailualalla. Sen keskeinen tavoite on selvittää tehokkaita monikulttuurisuuden parantamiskeinoja työympäristössä. Toimeksiantajina ovat olleet sekä monikansallinen matkailuyritys JW Marriott San Antonio Hill Country Resort & Spa, Texas, Yhdysvallat että kolme hotellia Stillwaterista, Oklahomasta, Yhdysvalloista: Atherton Hotel, Hampton Inn & Suites ja Residence Inn.
Opinnäytetyö pohjautuu kulttuuriteorioihin ja kulttuurien monimuotoisuuteen, ja niiden vaikutuksiin matkailualan työympäristössä, joita johdetaan monikulttuurisesti. Lisäksi työssäni tarkastellaan monikulttuurisuuden hyötyjä ja haasteita. Näiden lisäksi työ tutustuttaa ratkaisuja näihin haasteisiin; erityisesti strategisen suunnitelman, joka perehtyy monikulttuurisuuden kehittämiseen yrityksessä monikulttuurisuuden harjoittelun avulla. Näitä ratkaisuehdotuksia käsitellään sekä teoria- että tutkimusosiossa.
Tässä opinnäytetyössä on käytetty sekä laadullista että määrällistä tutkimusmenetelmää. Laadullinen tutkimus toteutettiin haastattelemalla seitsemää resort-hotellin johtajaa JW Marriottissa. Määrällinen tutkimusosa toteutettiin puolestaan kyselyllä. Kyselyssä kohderyhmänä olivat edellä mainittujen Stillwaterin hotellien työntekijät. Haastattelujen tavoitteena oli tukea teoriaosiossa käsiteltyjä aiheita sekä saada uusia ideoita ja kehitysehdotuksia monikulttuurisuuden johtamiseen ja kulttuurien integrointiin. Kyselyjen tavoitteena oli pääasiassa selvittää, millaisia asenteita työntekijöillä on omiin kulttuuriarvoja ja muiden työntekijöiden kulttuureita kohtaan. Monikulttuurisuudella on merkittävä vaikutus matkailualaan, minkä myös työ tuo ilmi. Koska matkailuala on asiakaspalvelukeskeistä ja kansainvalistä yritystoimintaa, monikulttuurisuuden huomiointi yrityksissä on elintärkeää. Kuitenkin monikulttuurisuus käsittää myös haasteita, esimerkiksi kommunikaatio-ongelmia työntekijöiden välillä. Opinnäytetyö tuo esille, että tehokkaimpia monikulttuurisuuden hyödyntämiskeinoja ovat monikulttuurinen toimikunta, ns. kielipankki tai kulttuuritapahtumat. Lisäksi eri kulttuurien käyttäytymistavat kiinnostavat vastaajia eniten. Tulokset osoittavat, että monikulttuurisuus ja sen tärkeys ymmärretään matkailualan yrityksissä, mutta sitä ei ole vielä kunnolla otettu käytäntöön, siksi monikulttuurisuuden koulutuksella on suuri merkitys myös tulevaisuudessa.
Kokoelmat
Samankaltainen aineisto
Näytetään aineisto, joilla on samankaltaisia nimekkeitä, tekijöitä tai asiasanoja.
Irfan, Muhammad

(

HAAGA-HELIA ammattikorkeakoulu

,

2014

)

Non-profit organizations traditionally operate within limited resources. They cannot spend much of their resources to increase motivation. Especially when the bigger goal of the organization is to promote cultural diversity ...

Noamesi, Paul

;

Tetteh, Theodora

(

Laurea-ammattikorkeakoulu

,

2015

)

This study examines how cultural diversity is managed in the work environment in care homes and cleaning services in Finland. The health care and cleaning services sectors were chosen primarily due to the high number of ...

Mattila, Linda

(

Metropolia Ammattikorkeakoulu

,

2016

)

Cultural values impact the attitudes towards diversity management perspectives. Therefore they convey critical opportunities and challenges that a country encounters, and which need to be identified for the successful ...