Arrangerandet av ett internationellt evenemang : Case: The First International Rotex Convention
Isaksson, Melina (2013)
---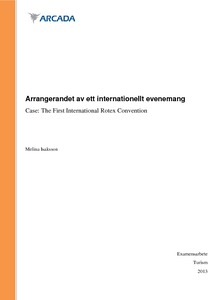 Arcada - Nylands svenska yrkeshögskola
2013
All rights reserved
Julkaisun pysyvä osoite on
http://urn.fi/URN:NBN:fi:amk-201304033904
Tiivistelmä
Den internationella Rotex-konferensen arrangerades för första gången i Bordeaux, Frankrike, i juli 2012 och arrangerades av Rotex 1690. Konferensens syfte var att främja samarbete och skapa ett internationellt nätverk bland unga vuxna som under de senaste åren deltagit i The Rotary Youth Exchange Program, det vill säga tillbringat ett gymnasieår utomlands genom Rotarys utbytesprogram. Rotex bildas av organisationer som består av dessa före detta Rotary utbyteselever och syftet med den internationella Rotex konferensen var också att diskutera frågor som berör Rotex organisationerna och på så sätt försöka säkra existensen av Rotex verksamheten världen över.
Inom ramen för detta examensarbete utförde skribenten en fyra månader lång praktik för organisationen Rotex 1690 där skribenten fungerade som en av evenemangets huvudevenemangsplanerare. Den internationella Rotex konferensen planerades att bli en regelbundet återkommande händelse vilket betonade vikten av att skapa en stabil grund och ett gott exempel för framtida konferenser. I examensarbetet beskrivs konferensens planerings, genomförande och avslutandefaser utgående från teorier om evenemangets livscykel. Som teoribas fungerar Bowdin et al., O'Toole och Mikolaitis och Kilkenny.
Planeringsfasen var den mest tidskrävande fasen medan själva genomförandet av evenemanget var den mest intensiva fasen. Under avslutningsfasen evaluerades den internationella konferensen med hjälp av en kvantitativ utvärderingsblankett som deltagarna fyllde i och enligt skribentens egna observationer.
Konferensdeltagarna var mycket nöjda och evenemanget fick bra respons. Målsättningarna uppnåddes till stor del; konferensen lyckades, trots viss tidsbrist, skapa en grund för ett internationellt Rotex nätverk och The Second International Rotex Convention har redan börjat planeras av Rotex Belgium för sommaren 2014.
The First International Rotex Convention was organised in Bordeaux, France, in July 2012 by Rotex 1690. The objective of the conference was to promote cooperation and to create an international network among young adults who during the last years had spent a high school year abroad with the Rotary Youth Exchange Program. Since the Rotex organisations consist of former Rotary exchange students another objective for the international convention was to discuss Rotex matters in order to secure the existence of Rotex activities all over the world.
In the context of this thesis the writer performed a four month internship for Rotex 1690 where the writer worked as one of the main event planners for this international convention. The International Rotex Convention was planned to become a recurrent event which emphasized the importance of creating a solid foundation and a good example for future conventions. This thesis describes the convention planning, execution and closure phases based on the theories of the event lifecycle. Bowdin et al., O'Toole and Mikolaitis and Kilkenny are used in the theory base.
The planning phase was the most time consuming phase while the execution of the event was the most intense phase. During the closure phase the international convention was evaluated according to the writer's own observations and by using a quantitative evaluation form filled in by the participants of the event. The participants were pleased with the event and the feed-back was very positive. The goals were achieved; despite some lack of time the convention succeeded in creating a basis for an international Rotex network, and a Rotex organisation in Belgium has already started to plan the Second International Rotex Convention for the summer of 2014.
Kokoelmat