Näringens betydelse i förebyggandet av osteoporos - en litteraturstudie
Pesola, Anne-Charlotte (2013)
---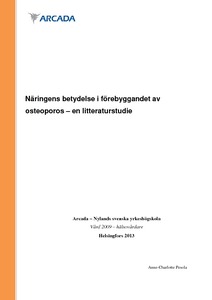 Arcada - Nylands svenska yrkeshögskola
2013
All rights reserved
Julkaisun pysyvä osoite on
http://urn.fi/URN:NBN:fi:amk-201305066613
Tiivistelmä
Befolkningsstrukturen i Finland förändras och antalet åldringar kommer att öka. Eftersom
osteoporos är en sjukdom som främst drabbar kvinnor över 50 år betyder detta
att fallen av osteoporos i framtiden blir fler p.g.a. att kvinnors medellivslängd är längre
än männens. Man kan minska sin risk att insjukna i osteoporos genom förebyggande
åtgärder.
Syftet med denna litteraturstudie är att kartlägga hur man kan förebygga osteoporos genom
rätt sorts näring och således lindra eventuellt lidande som osteoporos orsakar.
Som huvudsaklig forskningsmetod användes innehållsanalys. Dorothea Orems egenvårdsteori
användes som den centrala teoretiska referensramen. Orems teori grundar sig
på klientens aktiva deltagande i upprätthållandet av sin egen hälsa i preventivt syfte som
respondenten fokuserar på i examensarbetet. Klientens deltagande sker i interaktiv samverkan
med vårdaren. Vårdarens viktigaste funktion enligt Orems teori är att motivera
klienten till att ägna sig åt hälsosamma levnadsvanor som i denna studie fokuserar på
näring.
Resultatet av examensarbetet visar att man som vårdare kan göra en del för att motivera
klienten till att äta hälsosammare sammansatt kost. Motiveringen till att börja ägna sig
åt en hälsosammare livsstil blir lidande eftersom man upplever att osteoporos inte är en
särskilt allvarlig sjukdom och drabbar en först i ålderdomen. Det borde satsas mera
uppmärksamhet på konsten att motivera klienten att ägna sig åt hälsosamma matvanor.
The population structure is changing and the amount
of elderly people in society will in-
crease. Due to the fact that osteoporosis is a dise
ase that commonly affects women over
the age of 50 the prevalence of osteoporosis will i
ncrease, since life-expectancy for wom-
en is longer than it is for men. Osteoporosis is pr
eventable to a certain extent and appro-
priate nutrition is a key factor in this prevention
.
The purpose of the literature study was to identify
research in the role of how osteoporo-
sis can be prevented through certain nutritional el
ements and thus ease any suffering that
osteoporosis may cause. The method of analysis used
was content analysis. Dorothea
Orem ́s self-care theory was used as the central the
oretical framework in the thesis.
Orem ́s self-care theory is based on the patient ́s a
ctive participation in the maintenance
of his or her health with the focus being on preven
tative measures. The patient ́s partici-
pation happens interactively with the nurse. The pr
imary function of the nurse is to try to
motivate the patient to practice self-care activiti
es in order to lead a healthy life style
which in the thesis is focused on the intake of hea
lthy nutrition.
The result of the thesis indicates that the nurse i
s able to use many strategies in order to
try to engage the patient in performing self-care a
ctivities. It has been shown that the
common misperception that people usually have of os
teoporosis is that it is not a particu-
larly serious disease and that it is a disease that
affects only the elderly. Thus the motiva-
tion to prevent osteoporosis is often lacking. More
resources need to be put on the devel-
opment of the skill of motivating the patient
Kokoelmat