Företagsam Kvinna - En kreativ inspirationskväll : Att planera, marknadsföra, genomföra och utvärdera ett evenemang
Granholm, Johanna (2013)
---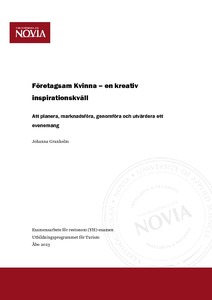 Yrkeshögskolan Novia
2013
All rights reserved
Julkaisun pysyvä osoite on
http://urn.fi/URN:NBN:fi:amk-201305138127
Tiivistelmä
Syftet med detta examensarbete var att planera, marknadsföra, genomföra och utvärdera evenemanget Företagsam Kvinna. Evenemanget var en inspirationskväll som bestod av en föreläsning av egenföretagare Ester Miiros samt tre kortare föredrag av kvinnor från Österbotten. Målgruppen för evenemanget var kvinnor bosatta i Jakobstad med omnejd. Evenemanget, som var ett nytt koncept, arrangerades på Jugend Home Hotel i Jakobstad 21.2.2013.
Planeringen och marknadsföringen av evenemanget skedde utgående från teori som berör evenemangsplanering, projektledning och marknadsföring av ett evenemang. Skribenten som fungerade som projektansvarig har tillsammans med planeringsgruppen skapat, planerat, genomfört och utvärderat evenemanget. Evenemanget möjliggjordes tack vare lokala sponsorer, ett gott samarbete med uppdragsgivaren och frivilliga volontärer som ställde upp. Sammanlagt deltog ca 90 kvinnor i evenemanget. Av dessa besvarade 68 stycken en enkät som delades ut under kvällen. Av kvinnorna som besvarade enkäten gav 87 % positivt betyg för evenemanget i sin helhet. Uppdragsgivaren Jugend Home Hotel ansåg att evenemanget var professionellt organiserat och välplanerat.
The purpose of this bachelor's thesis was to plan, advertise, organize and evaluate the event Företagsam Kvinna (Entrepreneurial Woman). The event was an inspirational evening and included a lecture by entrepreneur Ester Miiros and three shorter presentations by local women. The target group of the event was women living in Pietarsaari and its surroundings. The event was organized at Jugend Home Hotel in Pietarsaari on February 21, 2013. It was a new concept organized by Johanna Granholm.
The planning and marketing of the event was based on theory about event planning, project administration and event marketing. The writer of the bachelor's thesis created, planned, organized and evaluated the project together with the project group consisting of the CEO and employees at Jugend Home Hotel. The event Företagsam Kvinna was made possible thanks to local sponsors and good collaboration with the commissioner and numerous volunteers. In total, around 90 women took part in the event. 68 of the participants answered an evaluation form which was distributed during the event. 87 % of the respondents were satisfied with the event according to the evaluation form. The commissioner, Jugend Home Hotel, thought that the event was well planned and professionally organized.
Kokoelmat