Kartläggning av klövproblem på Grevnäs gård
Mårtenson, Jesse (2013)
---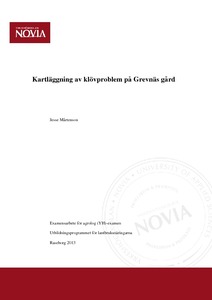 Yrkeshögskolan Novia
2013
All rights reserved
Julkaisun pysyvä osoite on
http://urn.fi/URN:NBN:fi:amk-201305168812
Tiivistelmä
Detta examensarbete är en fallstudie som kartlägger de olika klövproblemen på min hemgård, Grevnäs gård. Arbetet behandlar om hur man förebygger problemen samt vårdar dem. I kartläggningen framkom att det största problemet är separation i den vita linjen, klövröta, korkskruv samt limax. Gårdens besättning har lidit av en klövspaltsinflammationsepidemi och därför beaktas också den sjukdomen i arbetet. Kartläggningen visar att man med justeringar i utgödslingssystem, utfodring och anskaffande av en klövspolningsmatta kan förebygga en del klövproblem. På längre sikt skall man beakta klövproblem i aveln. Ekonomi, djurvälmående samt koskötarens välmående går hand i hand. Den generella slutsatsen av arbetet är att klövhälsan i gårdens besättning skall beaktas allt mer i framtiden.
This thesis is a case study that charts the different claw problems on my home farm, Grevnäs gård. The thesis considers also how to prevent the problems and how to deal with them. The survey revealed that the main problems are lesion in the white line, foot rot, gross claw overgrowth and foul of the foot. The herd on the farm was infected with Dermatitis digitalis and that is why the disease is also taken into account in this thesis. The survey shows that it is possible to prevent some of the claw problems with adjustments in the manure handling, feeding and the purchase of a footbath for claws. In the long run the claw problems should be considered in the breeding. The economy, the wellbeing of the herd and the wellbeing of the barn workers are all
linked to each other. The general conclusion of the thesis is that the claw health of the farm´s herd should be taken into account more in the future.
Kokoelmat