Uppföljning hur rekommendationerna för lagring av grot i lösvikt följs på Metsä Group, Vasa distrikt
Svartsjö, Marco (2013)
---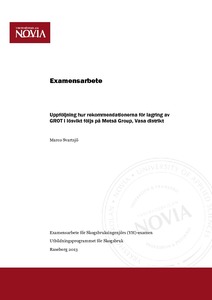 Yrkeshögskolan Novia
2013
All rights reserved
Julkaisun pysyvä osoite on
http://urn.fi/URN:NBN:fi:amk-2013052210196
Tiivistelmä
Examensarbetet behandlar huruvida man följer olika rekommendationer när man lagrar grot i lösvikt inom Metsä Group. Undersökningen är kopplad geografiskt till Metsä Group, Vasa distrikt, svenska Österbotten. Kontrollen omfattar 17 lagringsplatser där man lagrar grot. Lagringen har en stor inverkan på fukthalten i flisen som produceras av grot, och därigenom också värmevärdet vid förbränningen. Lagringen inverkar också på flisning, transport, arbetsskydd, vattenvård och rekreation.
Som metod för undersökningen användes att systematiskt mäta, kontrollera och observera grotvältor på olika lagringsplatser. En terrängblankett med frågeställningar och definitioner sammanställdes för ändamålet och de användes som utgångspunkt vid kontrollerna. Rekommendationerna som frågorna baserar sig på är i huvudsak tagna från skogsbrukets utvecklingscentral TAPIO:s bok "Uttag och produktion av energived", samt från Metsä Groups egna interna direktiv.
Resultaten tyder på att rekommendationerna följs bra inom Metsä Group, Vasa distrikt, men att det också finns utvecklingsmöjligheter genom t.ex. att i vissa fall göra grotvältorna högre och genom att använda varningsmärken och dubbla överliggande travlappar i större omsträckning.
This thesis considers how different recommendations are followed when tops and branches (forest residue) are stored in single items at Metsä Group. The investigation is geographically limited to Metsä Group, Vaasa district, Swedish Ostrobothnia, and the study covers 17 storage places where forest residue is stored. The storage has a big impact on the moisture content of the wood chips produced from forest residue, and on the heat value in the combustion as well. The storage also affects the chipping, transport, work safety, water protection and recreation.
As method in this study I used systematic measuring, monitoring and observation of forest residue stacks at various storage places. A terrain assessment form with questions and definitions was compiled for the purpose and they were used as a basis for the investigation. The recommendations, which the questions are based on, are mainly taken from the Finnish Forest Development Centre TAPIO's book Uttag och produktion av energived, and from Metsä Group's own internal directives.
The results indicate that recommendations are followed well at Metsä Group, Vaasa district, but there are also opportunities for development, for example, by building the stacks higher and by using warning signs and double overhead stack signs on a larger scale.
Kokoelmat