Effects of Horticulture Therapy for Elderly With Dementia in an institutional setting.
Perveen, Farida (2013)
---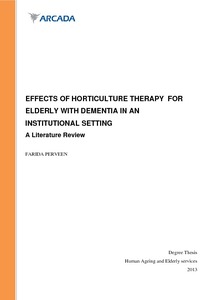 Arcada - Nylands svenska yrkeshögskola
2013
Creative Commons Attribution-NonCommercial 3.0 Unported
Julkaisun pysyvä osoite on
http://urn.fi/URN:NBN:fi:amk-2013052911556
Tiivistelmä
Abstract:
The aim of the study was to explore the benefits or the positive effects of Horticultural therapy that has on elderly with dementia , also other forms negative impacts such as loneliness, lack of physical activities and impairment's living in institution .which enhance the quality of life elders in institutional care.
Method Literature review is the method that has been used to carry out this study. The
data collected was analyzed using qualitative content analysis .Also for searching I search used was EBSCO, CINAHL, SAGE and Google Scholar. The results are grouped in categories and sub categories with the main themes to find out the result.
Results The results showed that horticulture therapy has great impacts on the wellbeing's of elder´s. Social support networks are important in the prevention of cognitive dysfunction and functional decline basically the demented person. There are many benefits were coming through with the experience of gardening among this age group. Previous researched articles are relevance to identify the effectiveness, acceptability of the study . The findings were presented positive effects on pain reduce stress reduction, improve fatigue and mood and increase social interaction, relaxation and environmental benefits which demonstrated positive intervention in dementia care. This study was guided by Rachel and Stephen Kaplan work on Attention Restoration Theory (ART) which was two types of attention, voluntary and involuntary to relief from mental fatigue and others.
Conclusion people–plant interactions promote well-being of the Elders, and this interaction is very important not only for cure but also as a preventive treatment for individuals as well as groups which were enhancing life satisfaction, reducing loneliness and promoting activities of daily living.
Abstrakt:
Undersökningens syfte var att utforska vilken nytta och vilka positive effekter trädgårds-terapi har på äldre med demens. Dessutom utforskas hur terapiformen påverkar andra negativa inverkningar så som ensamhet, avsaknad av fysiska aktiviteter samt nedsätt-ningar av att bo på institution. Allt detta höjer livskvaliteten för äldre som bor på institut-ion.
Metod: Detta arbete är en litteraturöversikt. Det insamlade materialet analyserades enligt kvalitativ innehållsanalys. Databaser som användes var EBSCO, CINAHL, SAGE och Google Scholar. Resultatet grupperades enligt huvudteman i olika kategorier och under-kategorier.
Resultat: Resultatet visade att trädgårdsterapi har en stor inverkan på äldres välmående. Sociala stödnätverk är viktiga för att förebygga kognitiva och funktionella nedsättningar det vill säga de nedsättningar en person med demens har. Trädgårdsarbete hade stor in-verkan på denna åldersgrupp. Tidigare forskning är relevant för att identifiera studiens effekt och acceptans. Resultatet visade positiva effekter på att minska smärta, stress och trötthet samt höja humör. Dessutom visade sig social interaktion, avkoppling och miljö-förbättringar vara positiva interventioner i vården av personer med demens. Det här arbe-tet styrdes av Rachel och Stephen Kaplan som arbetar med Attention Restoration Theory (ART) som består av både frivillighet och ofrivillighet att minska mental trötthet med mera.
Sammanfattning: Interaktion mellan människor och växter främjar äldres välmående. Denna interaktion är mycket viktig inte enbart som botemedel utan också som förebyg-gande vård för individer och grupper. Denna metod ökade tillfredställelsen med livet, minskade ensamhet och främjade ADL aktiviteter