Tar du emot mig när jag faller? : fall och mottaganden i dansfostran
Joffs, Jennifer (2013)
---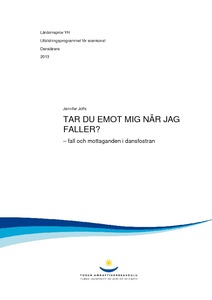 Turun ammattikorkeakoulu
2013
All rights reserved
Julkaisun pysyvä osoite on
http://urn.fi/URN:NBN:fi:amk-2013052410558
Tiivistelmä
Denna avhandling är en del av ett lärdomsprov för Åbo yrkeshögskolas danslärarexamen (YH). Den konstnärliga delen av lärdomsprovet är en koreografi för två dansare – Lennä lohtuni,kaadu kanssani – som framförs under Köydet irti!-festivalen 10–19.5.2013 i Åbo YH:s konstakademis Köysiteatteri.
Den skriftliga delen av lärdomsprovet syftar till att beskriva dansfostran inte enbart genom ord utan genom rörelse, närmare bestämt: fall och mottaganden. Det inledande kapitlet ger en inblick i varför skribenten valt att utgå ifrån just dessa två rörelser. Att falla och att ta emot (eller bli mottagen) behandlas, i texten, metaforiskt men också som fysiska rörelser i dansen, genom hänvisningar till dansforskning såväl som skribentens personliga erfarenheter i rollen som danslärare, dansare och koreograf.
Avhandlingen undersöker dansfostrans betydelse för individen på fem olika, om än överlappande, plan. Det andra kapitlet beskriver rörelsens och beröringens betydelse för vår förmåga att öppna oss för och tolka (nya) sinneserfarenheter, att lära oss om oss själva och vår omvärld. Kapitel tre skildrar rörelsen mellan det betydelsefulla och det obegripliga genom att relatera danskonsten till andra konst- och kommunikationsformer. Kapitel fyra behandlar rörelsens förhållande till den så kallade danstekniken och till människans personliga historia och undersöker hur dansfostran kan skapa rum för upplevelsen av att improvisera, skapa och lära. Det femte kapitlet visar hur dansfostran förmår vidga och rasera människans olika roller, när de inskränker individens frihet att inta en aktiv subjektsposition i förhållande till danskonsten och den egna tillvaron. Kapitel sex sammanfattar skribentens syn på dansfostran ur ett etiskt
perspektiv genom att beskriva hur den dansande människan lär sig att ta ansvar för sig själv och sina medmänniskor.
This study is written as a partial fulfillment of the Dance Teacher Degree / Bachelor of Dance, at the Turku University of Applied Sciences. The artistic choreographic part of the degree is a performance work for two dancers – Lennä lohtuni, kaadu kanssani – performed at the Köydet Irti!-festival May 10 – 19, 2013 at the Turku Arts Academy's Köysiteatteri.
One could say that the written part of the degree describes dance education not merely by words but through movement, to be precise: falling and catching. In the beginning chapter the author explains why she has chosen to focus on these two movements. In this text, falling and catching (or being caught) is treated metaphorically but also as physical movement, revealed through previous research in dance as well as through the author's own experiences in the role of dance teacher, dancer and choreographer.
The study offers five different, although overlapping, ways to consider the meaning of dance education for the individual. The second chapter explains the importance of movement and touch for our ability to open up to and interpret (new) perceptions, to learn about ourselves and the world. Chapter three describes the movement between the meaningful and the incomprehensible, relating dance to other art forms and forms of communication. Chapter four addresses movement in relation to the so called dance technique and to a person's past experience and considers how dance education can make room for the experience of improvising, creating and learning. The fifth chapter shows how dance education can broaden the different roles of human beings, when they restrict the individual's possibilities to take an active stand in relation to the art of dance and to life. Chapter six summarizes the author's view on dance education from an ethical perspective by describing how dancing teaches us about taking responsibility for ourselves and others.
Kokoelmat