Känsla av sammanhang : grunden för ett innovativt grupphem
Höglund, Sarah; Fagerström, Teresa; Ravall, Bodil; Smeds, Maria; Backas, Jessica; Nervander, Diane; Leppänen, Eveliina; Dang-Narkaus, Nikita (2013)
---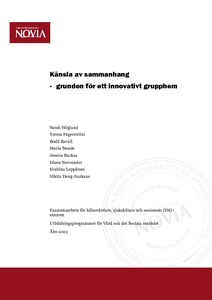 Höglund, Sarah
Fagerström, Teresa
Ravall, Bodil
Smeds, Maria
Backas, Jessica
Nervander, Diane
Leppänen, Eveliina
Dang-Narkaus, Nikita
Yrkeshögskolan Novia
2013
All rights reserved
Julkaisun pysyvä osoite on
http://urn.fi/URN:NBN:fi:amk-2013060513082
Tiivistelmä
Examensarbetet ingår i Projekt Senior- och Äldreliv och är ett beställningsarbete av Åbo Svenska Diakoniförening r.f. Projektets syfte är att skapa ett nytt koncept för ett grupphem för äldre. Metoder som används är litteraturstudier, studiebesök, diskussion med referensgruppen och fokusgruppdiskussion. Arbetet genomsyras av ett salutogent synsätt som utgår från Aron Antonovskys tankar om begriplighet, hanterbarhet och meningsfullhet. Arbetet behandlar lagstiftning och styrdokument som gäller för anordnande av grupphemmet, ideologi, boendemiljö, teknologi, ledarskap, verksamhet, meningsfulla relationer och förväntningar på ett grupphem.
Projektet består av flera olika teman och resultaten bildar tillsammans ett heltäckande koncept för grupphemmet. Fokusgruppdiskussionen kartlägger en grupp äldres förväntningar på ett grupphem. En minneslista för det administrativa anordnandet av grupphemmet utformas. Resultatet utmynnar även i fem olika produkter i form av fyra postrar och en broschyr. Två postrar beskriver ideologin och verksamheten och deras inverkan på de äldres livskvalitet och känsla av sammanhang. En poster sammanfattar teknologins och boendemiljöns möjligheter. En broschyr fungerar som en tillämpningsmanual för ett salutogent ledarskap på grupphemmet. En poster synliggör betydelsen av meningsfulla relationer.
The Bachelor's Thesis is a part of Project Senior and Elderly life and is a request from Åbo Svenska Diakoniförening r.f. The purpose of the project is to create a new concept for a group home for elderly. Methods that are used are literature studies, study visits, discussions with the reference group and focus group discussion. The work is imbued with a salutogenic approach based on Aron Antonovsky's thoughts about comprehensibility, manageability and meaningfulness. The work processes law and governing documents for starting a group home, ideology, living environment, technology, leadership, activities, meaningful relationships and expectations of a group home.
The project includes different themes and together they create a comprehensive concept for the group home. The focus group discussion identifies the expectations of a group home among a group of elderly. A memory list for starting up the group home is created. The results also lead to five different products that consist of four posters and one brochure. Two posters describe the ideology and the activities and their impact on the elderly's life quality and sense of coherence. One poster summarizes the opportunities of technology and living environment. The brochure serves as a user's guide for a salutogenic leadership in the group home. One poster visualizes the meaning of relationships.
Kokoelmat