Snabblån - En skuldfälla för ungdomar?
Åberg, Fanny (2013)
---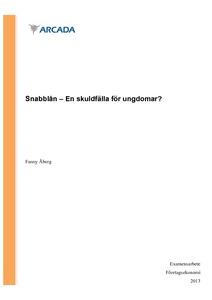 Arcada - Nylands svenska yrkeshögskola
2013
Creative Commons Attribution-NonCommercial-NoDerivs 2.5 Ruotsi
Julkaisun pysyvä osoite on
http://urn.fi/URN:NBN:fi:amk-2013061213924
Tiivistelmä
Syftet med min studie var att forska i ämnet snabblån och undersöka hur studenter på Nylands svenska yrkeshögskola Arcada förbrukar dessa konsumentkrediter samt hurudan möjlig effekt lånen haft på dem. Undersökningen genomfördes våren 2013 på alla inskrivna Arcada studenter i form av en webbenkät, som utfördes i samarbete med Analystica. Svaren kodades om till siffror med hjälp av SPSS och analyserades. Allt som allt svarade 131 studenter av 2700 inskrivna Arcada studenter på min enkät, detta ger min undersökning en svarsprocent på 4,85 %. Av 131 studenter hade sex någon gång ansökt om ett snabblån, fyra kvinnor och två män. Flest snabblån anhölls av stu-denter som studerar på fjärde året eller mer, från företagsekonomilinjen, informations – och medietekniklinjen och inom det sociala området. Största orsaken till att de tagit ett lån var att man "får pengarna direkt". Två stycken studenter hade allt som allt ansökt om ett lån, två stycken om två till fyra lån och två stycken hade ansökt om fem lån eller mer. Den vanligaste lånesumman var 500-700 € och 700 € eller mer. Mest användes pengarna på rusmedel, matkostnader och till att betala bort gamla räkningar/lån. Fem av sex anser att de kanske kan tänka sig att ta ett snabblån igen, en elev har ångrat att hon/han tagit ett snabblån. Negativa effekter som snabblån ledde till var betalningssvå-righeter och stress.
The purpose of my study was to do a research in the subject payday loans and examine how students from Arcada University of Applied sciences consume these consumercred-its and what kind of effect these loans have among the students. The survey was conduct-ed in spring 2013 on all enrolled Arcada students using an online survey, which was made in help of Analystica. The responses were coded into figures using SPSS and then analyzed. All in all, 131 students responded to my survey from all together 2,700 Arcada students, this gives my survey a response rate of 4.85%. Of the 131 students, six of these had sometimes applied for an instant loan, four women and two men. Most payday loans were taken by students studying for fourth year or more, from business administration, information - and media technology and in the social sphere. The main reason why they applied for a loan was to "get the money directly." Two students had all in all searched for one loan, two for two to four loans and two youths for five loans or more. The most common loan amount was 500 to 700 € and 700 € or more. Most used the money on sub-stance abuse, food costs and to pay off old bills or loans. Five of six students think that they might be willing to take a payday loan again, only one student has regretted that he/she took the loan. Negative effects fast loans mostly led to was payment difficulties and stress.
Kokoelmat