Hur uppfattas en skapad identitet? –Alexandrias profil vs image
Rantanen, Janne (2013)
---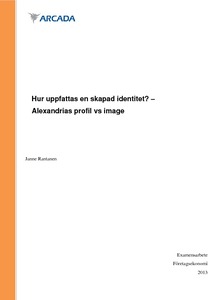 Arcada - Nylands svenska yrkeshögskola
2013
All rights reserved
Julkaisun pysyvä osoite on
http://urn.fi/URN:NBN:fi:amk-2013061214002
Tiivistelmä
Bankvärlden har upplevt en stor förändring under de senaste åren. Som en följd av det ha synsättet på branschen ändrats som orsakat att nya förfaringssätt har utvecklats. Det har lett till att det offentliga uppträdandet i viss mån saknat trovärdighet och att kundservicen tagit skada av förändringarna som utförts. Då har bankens förmåga att föra fram den egna profilen spelat en viktig roll.
Examensarbetet gjordes som uppdrag till Alexandria Oyj som är Finlands största investmentbolag. Företaget började sin verksamhet år 1996 och betjänar numera över 55 000 kunder. Syftet med undersökningen var att utreda förhållandet mellan företagets profil och image. Undersökningen skedde på basis av Jennifer Aakers modell " Dimensions of Brand Personality" som grundar sig på människans personliga beteende. Modellen sammankopplades med en semantisk differentialskala som tillsammans bildade bottent för undersökningen. Som material till undersökningen användes litteratur om varumärkens olika funktioner. Undersökningen begränsades till företagets nuvarande kunder. Resultatet berättade hur de olika egenskaperna upplevdes i förhållandet till hur företaget ville utrycka sig. Resultatet gav en täckande syn på företagets nutida läge samt en syn på olika utvecklingsområden.
The banking industry has experienced a major change over the past few years. As a result, new thoughts and approaches have been developed for the industry. However, general performance is lacking credibility and customer service has suffered as a result of changes made. Consequently the ability of banks to establish their own profiles has played an important role.
The thesis was created for Alexandria, Finland´s largest investment company. The company began operations in 1996 and today provides service to over 55,000 customers. The aim of the study was to investigate the relationship between the company's profile and its' image. The investigation was based on Jennifer Aakers model "Dimensions of Brand Personality" which studied the behaviour of humans. The material is based on literature covering the multifaceted functions of brands. The investigation was limited to the company's current customers, and the results evaluate the difference between actual customer perception and the desired image of the company. The outcomes offered a holistic view of the company's current state whilst also offering insight into potential areas of development.
Kokoelmat