"Alltså ja hade no själv tänkt flytta men de va sen föräldrarna som sa att ja borde." : En studie om hur personer med intellektuella funktionsnedsättningar upplever att flytta hemifrån.
Lill-Smeds, Mathilda (2013)
---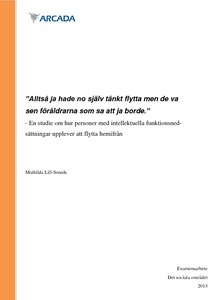 Arcada - Nylands svenska yrkeshögskola
2013
All rights reserved
Julkaisun pysyvä osoite on
http://urn.fi/URN:NBN:fi:amk-2013061714295
Tiivistelmä
Syftet med detta examensarbete var att undersöka hur personer med intellektuella funktionsnedsättningar upplever att flytta från sina föräldrars hem. Frågeställningarna handlade om hur delaktiga personerna upplevde sig vara i flyttningsprocessen och hur självbestämmanderätten kom till uttryck. Som metod användes intervjufrågor och sex personer intervjuades med öppna frågor. Respondenterna tillfrågades om de ville vara med i intervjun, om de nyligen hade flyttat hemifrån och hade svenska som modersmål. Kårkulla och FDUV hjälpte till att hitta möjliga och lämpliga respondenter. Samarbetsparter var också FDUV och deras projekt, Skräddarsydd boendeservice. Den teoretiska referensramen har bestått av Molins sex former av delaktighet och ICF:s klassifikation av delaktighet. Centrala begrepp i arbetet förutom delaktighet, självbestämmanderätt och intellektuell funktionsnedsättning har varit hem och boende. Analysen av materialet kom fram till att de flesta av personerna upplevde att de hade fått välja sina nya hem men i själva verket var det planerat var de skulle bo. Respondenterna trivdes i sina nya hem och de flesta ansåg sig vara hemma just där. Det var också intressant att personerna inte saknade något från sina föräldrars hem. När det handlade om diskussionen angående flytten hade de flesta föräldrarna påbörjat den, och i synnerhet hade respondenterna pratat med sin mamma. Det var bara två stycken som själva hade tänkt på att flytta innan någon annan tog upp det. Personalens roll i det nya hemmet var också ett problem för vissa respondenter. I stort sätt var flytten positiv men för några var det svårt att flytta och speciellt en respondent nämnde att det var oklart varför flytten ordnades. Arbetets resultat är viktigt för personerna själva, anhöriga, personal inom området och också beslutsfattare.
The purpose of this Bachelor´s thesis was to examine how persons with intellectual im-pairments experience the move from home. The thesis questions dealt with how partici-pated the persons felt in the process moving from the homes of their parents and how the self-determination was expressed. The method of the work was qualitative and six per-sons were interviewed. The respondents were questioned if they wanted to participate in the study if they recently had moved from their parent´s home and if Swedish was their mother tongue. Kårkulla and FDUV helped me to find possible and suitable respondents. FDUV and their project "Tailor-made living" was my thesis partner. My theoretical frame of reference has been the six forms of participation by Molin and the classification system of participation by ICF. The central terms of my study have, aside from participation, self-determination and intellectual impairment, been house and residence. The analysis of the data showed that most of the respondents felt that they had gotten to choose their own homes but in fact it was planned were they would live. Most of the persons felt home in their new apartments and it was interesting to find out that they didn´t miss any-thing from their previous home. Most of the parents had opened the discussion about the move and the respondents had in most cases talked with their mothers. It was only two persons who had thought about moving before someone brought up the question. The role of the staff in the new homes was also a problem for some respondents. In all was the move from home quite positive but for some, especially for one person, was it hard and the person didn´t understand why the move was done. The results of this thesis are im-portant for the persons themselves, for relatives, for workers in the field and for policy-makers.
Kokoelmat