Förenklat webbaserat bokföringssystem : med Medlemsregister
Ekholm, Benjamin; Peltonen, Rasmus (2013)
---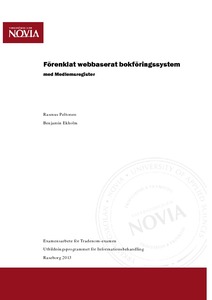 Ekholm, Benjamin
Peltonen, Rasmus
Yrkeshögskolan Novia
2013
All rights reserved
Julkaisun pysyvä osoite on
http://urn.fi/URN:NBN:fi:amk-2013120520166
Tiivistelmä
Vårt examensarbete är ett utvecklingsprojekt av ett bokföringssystem för Ekenäs Kåravdelning R.f. Slutprodukten är ett bokföringssystem samt ett medlemsregister som är webbaserat.
Bokföringssystemet lagrar transaktioner som skett under årets gång. Man skall kunna lägga till och redigera olika konton. På basis av informationen som matats in under ett år så görs det automatiskt upp ett bokslut.
Systemet har även ett medlemsregister över alla medlemmar så det är lätt att följa med hur många medlemmar föreningen har. Systemet lägger automatiskt in medlemsavgifter i bokslutet. Vi hade som mål att få systemet så automatiserat som möjligt.
Our bachelor's thesis is a development project on a bookkeeping system for the students' association Ekenäs Kåravdelning r.f. The final product is a web-based bookkeeping system including a register of members.
The system stores transactions that have occurred during the year. You can add and edit different accounts. A balance sheet is automatically calculated based on the information the users have put in.
The register of members makes it easier to keep track of the current number of members. The system will automatically insert the membership fees into the balance sheet at the end of the year. Our goal was to make the system as automatic as possible.
Kokoelmat