Drivsystem för ett lätt eldrivet fordon
Pettersson, Jonas (2009)
---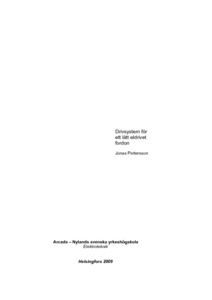 Arcada - Nylands svenska yrkeshögskola
2009
All rights reserved
Julkaisun pysyvä osoite on
http://urn.fi/URN:NBN:fi:amk-201001111201
Tiivistelmä
Detta slutarbete handlar om planeringen av ett drivsystem för ett lätt eldrivet fordon. Drivsystemet innehåller ett ackumulatorpaket, en trefas frekvensomvandlare och en
trefas permanentmagnetiserad synkronmotor. Det drivande hjulet är direktdrivet alltså är det frågan om en navmotor.
Ackumulatorpaketet som har valts är på 48V och består av 4 st slutna blyackumulatorer. Kapaciteten är i denna prototyp vald till 9Ah av säkerhetsskäl.
Frekvensomvandlaren bygger på mosfet teknik och är planerad för höga strömmar och låga spänningar. DsPIC30f2010 används som styrlogik i frekvensomvandlaren. Mikrokontrollern använder SVM för att matematiskt modelera trefasspänningen och
spänningen moduleras till elmotorn genom PWM. Frekvensomvandlaren är optimerad för hög effektivitet. Transistorerna är överdimensionerade för effekten, detta minskar på ledningsförlusterna. Även kopplingstiden för transistorerna är så liten som teknisk möjligt. Kort kopplingstid medför dock problem med överspänningar som måste filtreras bort.
Mätning för förbrukad effekt är utförd i arabiastrandens parkeringshall, resultaten visar att det krävs en motor med nominaleffekten på ca 1kW för att uppnå 40km/h utan att överbelasta motorn.
Effektiviteten för frekvensomvandlaren är beräknad till 99,59 vid ca 1kW belastning. Effektivitetsmätningar är ej utförda som skulle bevisa beräkningarna.
Drivsystemet använder sig av regenerativ bromsning för att ta tillvara kinetisk energi vid inbromsningar med motorn.
This thesis is about the planning of a drive system for a lightweight electric vehicle. The drive system includes a batterypack, a three-phase frequency converter and a three-phase permanent magnet synchronous motor. The driving wheel is directly driven, therefore the motor is of hubmotor type.
The batterypack which has been chosen to 48V and is made up of 4 pieces of sealed lead-acid batteries. The capacity of the batterypack of this prototype is selected to 9Ah for security reasons.
The frequency converter is based on MOSFET technology and is designed for high currents and low voltages. DsPIC30f2010 is used as control logic in the frequency converter. The microcontroller uses SVM to mathematically handle the sinusoidal three phase voltage. The voltage is modulated to the electric motor through PWM. The frequency converter is optimized for high efficiency. Transistors are oversized for
the calculated effect, thus reducing the conduction losses. Switching time of the transistors is as small as technically possible. Short switching time though pose a problem with surges that must be filtered out.
Measurement of consumed power is carried out in the Arabianranta parking hall, the results demonstrate the need for an motor with nominal power of about 1kW to reach
40km / h without overloading the motor.
The effectiveness of the frequency converter is estimated at 99.59 at about 1kW load. Efficiency measurements are not performed that would prove the calculations.
The drive system uses regenerative braking to charge the batterypack when braking.
Kokoelmat