De gråa pantrarna : En studie om de kvinnliga seniorkonsumenterna
Sarén, Sandra (2013)
---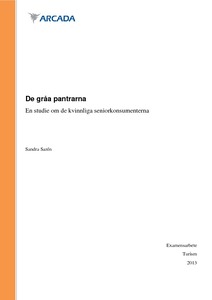 Arcada - Nylands svenska yrkeshögskola
2013
All rights reserved
Julkaisun pysyvä osoite on
http://urn.fi/URN:NBN:fi:amk-2013120620353
Tiivistelmä
Ökningen av antalet seniorer i samhället driver servicebranschen mot ett agerande. Hela 90 procent av dem bor hemma ensamma eller med sin partner. I jämförelse med seniorerna förr i tiden har dagens seniorer betydligt mer tid, ork och råd att fylla sin fritid med såväl aktiva, passiva, underhållande som inlärande fritidstjänster.
Problemområdet i detta arbete omfattas av kvinnliga, friska och aktiva seniorer i ålders-grupperna 60, 70 och 80 år. Hur upplever de sin livskvalitet och sin fritid samt det utbud av fritidstjänster som finns tillgängliga för dem? Vilka motivationsfaktorer och upplevelser höjer deras livskvalitet? Syftet är att skapa en överblick över vem den kvinnliga seniorkonsumenten är idag och genom fältundersökningar bidra till förbättringen av de fritidstjänster som är riktade mot de kvinnliga seniorkonsumenterna.
Arbetets teorigrund utgörs huvudsakligen av motivations-, kvalitets- och upplevelseteorier men även av den nödvändiga Maslows behovshierarkin. Undersökningen grundar sig på kvalitativa intervjuer gjorda personligen av skribenten. Aktuella siffror och artiklar har använts som stöd för arbetets innehåll.
Undersökningens resultat bekräftar tydligt de kvinnliga seniorkonsumenternas längtan efter en aktiv fritid. Man ser även att deras motivationsfaktorer går hand i hand med deras basbehov, varav trygghetsbehovet spelar den allra största rollen och avspeglar sig i alla deras medvetna och omedvetna val. Resultaten visar även att det sociala samspelet har en oerhört stor roll i seniorernas vardag och att de mer än gärna delar sina fritidsaktiviteter tillsammans med övriga familjemedlemmar. Fenomenet word-of-mouth har genomgående en enorm inverkan på de kvinnliga seniorernas fritid.
The increasing number of elderly people in our community drives the service industry to take action. Facts state that nearly 90 percent of the elderly citizens today live at home with or without a partner. Compared to the elderly citizens in the past, they have considerably more time, energy and economical resources to fill their free-time with active, passive, entertaining and learning leisure activities.
This research's problem area consists of still healthy and active female seniors aged 60, 70 and 80. How do they perceive their life quality and spare time, as well as their range of leisure activities available for them? What kind of services and experiences are they drawn to? Which motives lies behind their decisions? The aim of this research is to create an overview of the female senior consumers today and clarify the possibilities to improve their leisure activities.
The theoretical base consists mainly of motivation and quality theories, tourism experience theories and also the important Maslow's hierarchy of needs. The field researches are personally gathered by the writer and current data is used as a reference to support the theoretical base.
The results clearly show the need and importance of an active life for the female seniors in our community today. Their basic needs, especially their need of safety, seem to be their biggest motivators in life regardless if they do conscious or unconscious decisions. Results also indicate that social interaction still plays a huge role in their ordinary lifestyles and that sharing experiences amongst friends and family means a great deal for them. The word-of-mouth phenomenon also has an important role throughout this research.
Kokoelmat