En metodjämförelse av analysinstrumenten Thrombolyzer Compact X och STart 4 vid analys av P-TT-INR
Friberg, Marlene (2013)
---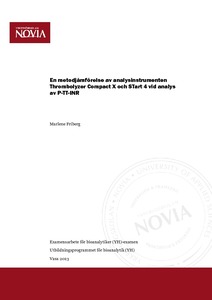 Yrkeshögskolan Novia
2013
All rights reserved
Julkaisun pysyvä osoite on
http://urn.fi/URN:NBN:fi:amk-2013121120853
Tiivistelmä
I laboratoriets kvalitetsarbete ingår valideringen av nya metoder. Detta kan göras genom att jämföra den nya metoden med en annan metod. Syftet med denna undersökning var att utreda om den automatiska Thrombolyzer Compact X kunde ersätta den semi-automatiska STart 4 som analysinstrument i rutinarbetet på Ålands centralsjukhus laboratorium vid analys av P-TT-INR. Om en eventuell skillnad fanns skulle den kliniska betydelsen av denna utredas. Den teoretiska bakgrunden i detta arbete innefattar bl.a. hemostasen, antikoagulansbehandling, laboratorieundersökningen tromboplastintid och analysinstrument.
Undersökningen genomfördes genom att samla in prover vid Ålands centralsjukhus och analysera dessa på Thrombolyzer Compact X och STart4. Westgards tillvägagångssätt vid metodjämförelse utgjorde grunden för genomförandet. Korrelationen mellan dessa analysinstrument analyserades med hjälp av Passing- Bablok regressionsanalys och Bland-Altman Plot. Resultatet av denna undersökning påvisade en god korrelation mellan analysinstrumenten, och metoderna kan således användas omväxlande. En uppskattning av den interna variationen hos respektive analysinstrument gjordes och det konstaterades att båda analysinstrumenten har bra precision. Det fanns ingen skillnad som var av klinisk betydelse. Baserat på denna studie är Thrombolyzer Compact X ett bra val av analysinstrument för att ersätta STart4 i rutinarbetet på Ålands centralsjukhus laboratorium.
Laboratory quality management includes the validation of new methods, which can be done by comparing a new method to a previously used method. The purpose of this study was to investigate whether the fully-automatic analyzer Thrombolyzer Compact X could replace the semi-automatic analyzer STart 4 in the routine work on the Åland central hospital laboratory in analyzing P-TT-INR. In case a difference between the methods was detected, the clinical significance would be investigated. The theoretical background of this work includes the concepts of haemostasis, anticoagulant therapy, analysis of thromboplastin time and the analyzers.
The study was conducted by collecting samples at the Åland central hospital and analyzing the samples on Thrombolyzer Compact X and STart 4. Westgard's approach to method comparison was the basis for implementation. The correlation between these analyzers was analyzed with Passing-Bablok regression and Bland Altman plot. The results of this study demonstrated a good correlation between the analyzers and their methods: the analyzers can, thus, be used interchangeably. An estimate of the internal variability of the respective analyzers was made and both analytical instruments were found to have good precision. There was no difference that was clinically significant. Based on this study, Thrombolyzer Compact X is a good analytical instrument to replace STart4 in routine work at the Åland central hospital laboratory.
Kokoelmat