Behavioral scouting : - an evaluation tool for mental qualities and mental skills in ice hockey
Welling, Jesse (2013)
---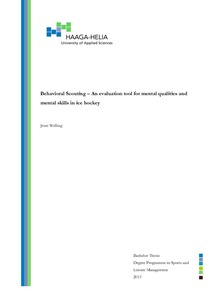 HAAGA-HELIA ammattikorkeakoulu
2013
All rights reserved
Julkaisun pysyvä osoite on
http://urn.fi/URN:NBN:fi:amk-2013121621362
Tiivistelmä
The importance of psychological factors is obvious in sports and lately the topic has gained
increased attention. Coaching is developing all the time towards a more comprehensive approach,
where attention is paid to the technical, tactical, physical and mental requirements of a
sport. In team sports, coaches are now also paying more attention to individual athlete development.
In addition, the importance of scouting and recognizing talent is increasing and more
and more resources are being devoted to this task.
Mental qualities have been under evaluation for a long time in ice hockey. Lately their importance
has even been considered most essential. The connection between mental qualities
and elite performance is accepted. But the absence of a consistent and clear understanding of
the mental requirements of ice hockey still exists today. The concepts and terminology that are
used are inconsistent. So far, there has not been a concrete tool to help players, coaches and
scouts define the required mental qualities and mental skills and establish a common language
and clear evaluation criteria for the psychological factors in ice hockey.
Evaluating the mental factors and profiling a player helps the player and the coaches develop a
comprehensive individual coaching process. The aim of coaches is to help players develop and
reach their maximal potential. The foundation for the development process is that the player
knows himself and the coach knows the player. The player's increased self-awareness plays a
key role. It is vital that the player and the coach can communicate. It is easier to get to the
point and increase understanding when discussion is based on concrete actions and behaviours
instead of solely on the abstract mental qualities. However, it is also relevant to understand
how the mental factors appear in actions and behaviours.
The Behavioral Scouting –tool enables one to evaluate ice hockey players' mental qualities and
mental skills by evaluating their concrete and observable actions and behaviours. The tool
gives as an end result the player's mental quality profile in graphical form. The tool is intended
to help coaches, scouts and players link the important and concrete actions and behaviours
with the essential mental qualities required in ice hockey. It defines the psychological factors
and establishes the common language and clear evaluation criteria for players, coaches and
scouts. It increases a player's self-awareness and it helps increase communication and understanding
between the different parties. It also helps coaches and scouts make comparison between
different players which helps them in the player selection process. The tool is designed
to be easy to use and actions and behaviours that are under evaluation are easy to see and understand.
Samankaltainen aineisto
Näytetään aineisto, joilla on samankaltaisia nimekkeitä, tekijöitä tai asiasanoja.
Björk, Jenni

;

Hautala, Mervi

;

Pietiläinen, Tanja

(

Oulun ammattikorkeakoulu

,

2017

)

Tutkimusten mukaan viidennes suomalaisista nuorista kärsii jonkinlaisesta mielenterveyden ongelmasta tai häiriöstä. Yleisin mielenterveyden ongelma nuorilla on masennus, josta kärsii noin kymmenen prosenttia ikäluokasta. ...

Kinyua, Bancy

;

Njagi, Edel

(

Jyväskylän ammattikorkeakoulu

,

2013

)

ABSTRACT The purpose of the study was to find out the perceptions and the knowledge about mental illnesses among Kenyan immigrants living in Finland. The aim is to provide information that can be utilized in health care ...

Tenkanen, Jaana

(

Jyväskylän ammattikorkeakoulu

,

2012

)

Opinnäytetyön tarkoituksena oli palveluohjauslomakkeen kehittäminen mielenterveysasiakkaan palveluohjaukseen Jämsän päihde- ja mielenterveyspalveluihin. Palveluohjauslomake tulee olemaan ohjaustyönmenetelmä kuntoutuksen ...