Imageundersökning : Case: Stockmann Abp
Wagner, Jonas (2013)
---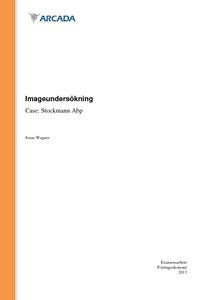 Arcada - Nylands svenska yrkeshögskola
2013
All rights reserved
Julkaisun pysyvä osoite on
http://urn.fi/URN:NBN:fi:amk-2013121821851
Tiivistelmä
Varumärkesimage är ett begrepp som syftar på hur konsumenterna upplever ett varumärke. Då konkurrensen mellan varumärken ständigt ökar, blir det allt viktigare för företagen att uppnå en positiv och stark image för att differentiera sig ur mängden.
Detta examensarbete har som syfte att redovisa hur konsumenterna upplever varumärket Stockmann. Problemområdet handlar om hur ett företag skall bygga upp, upprätthålla och utveckla sitt varumärke för att nå en stark och positiv image, samt hur man analyserar en varumärkesimage. I examensarbetet undersöks hur studeranden på Arcada- Nylands svenska yrkeshögskola upplever varumärket Stockmann och undersökningen begränsas till de studerandena som har besökt varuhuset. I undersökningen används en kvantitativ metod.
Resultatet av undersökningen är att studeranden på Arcada som har besökt Stockmann, överlag har en positiv image över varumärket Stockmann. Speciellt de studerande som har arbetat på Stockmann och de som har stamkundskort till Stockmann, upplever varumärket positivt. Studerandena anser att Stockmann har en image som ett känt, dyrt, pålitligt och traditionellt varuhus med god kvalité och ett brett produktsortiment.
Brand image is a concept that refers to how consumers perceive a brand. As the competi-tion between brands is constantly increasing, it becomes more important for companies to achieve a strong, positive image to differentiate themselves from the crowd.
This thesis aims to show how consumers perceive the brand Stockmann. The problem area is about how a company will build, maintain and develop their brand in order to achieve a strong, positive image, and how to analyze a brand's image. This thesis examines how students at Arcada University of Applied Sciences experience the Stockmann brand. The study is limited to those students who have visited the department store Stockmann. In the study a quantitative method is used.
The result of the study is that students at Arcada that have visited Stockmann generally have a positive image of the brand Stockmann. Especially those students that have worked at Stockmann and those that have customer loyalty cards to Stockmann are expe-riencing the brand positively. Students believe that Stockmann has an image as a well-known, expensive, reliable and traditional department store with good quality and a wide range of products.
Kokoelmat